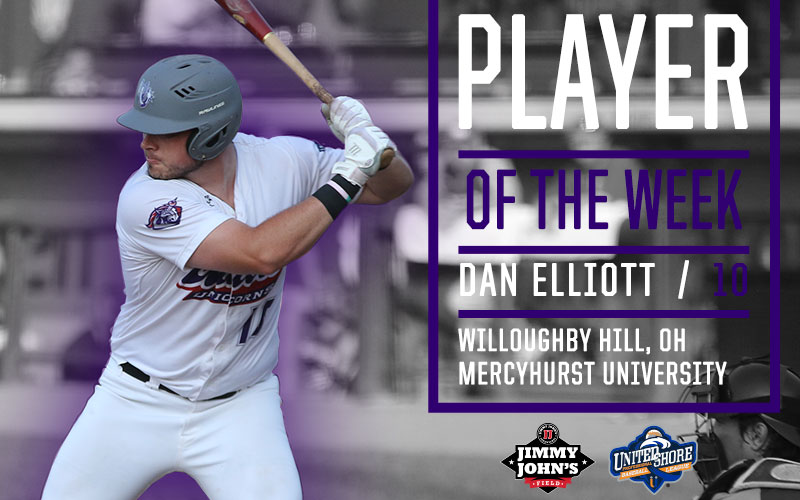 Dan Elliott Earns USPBL Player of the Week
August 13th, 2018
ROCHESTER, Mich. – Utica Unicorns first baseman Dan Elliott was named United Shore Professional Baseball League Player of the Week, announced by the league office on Monday. Elliott batted .400 last week with a league-best three home runs and eight runs batted in.
Elliott homered in 3 of 4 games played last week, including a game-winning blast on Thursday night to give the Unicorns a 2-1 victory over the Westside Woolly Mammoths. He finished the week 6-for-15, with a double and a slugging percentage of 1.067.
A native of Willoughby Hill, Ohio, Elliott has been instrumental to the Unicorns going 4-1 over their last five games and just one game back in the East Division standings. His five home runs this season is tied for fourth in the league.
The week will begin with Winning Wednesday as Italian-American Heritage Night makes its way to Jimmy John's Field. That will be followed by Thirsty Thursday with Beatlemania Night, Fireworks Friday powered by XFINITY, First Responders Night on Saturday presented by Provision Financial, and Sunday Fun Day with Princesses and Pirates courtesy of Fairytale Entertainment.
To purchase tickets or read more about upcoming games and promotions, please click here.
PLAYERS OF THE WEEK
Week 1 (May 11-13) – Chris Mangus, 1B/DH, Eastside Diamond Hoppers
Week 2 (May 14-20) – Ethan Wiskur, OF, Westside Woolly Mammoths
Week 3 (May 21-27) – Jalin Lawson, 2B, Westside Woolly Mammoths
Week 4 (May 28-June 3) – Spencer Ibarra, OF, Utica Unicorns
Week 5 (June 4-10) – Carter Grote, INF/OF, Utica Unicorns
Week 6 (June 11-17) – Ryan Smith, OF, Birmingham Bloomfield Beavers
Week 7 (June 18-25) – Cody Brown, RHP, Utica Unicorns
Week 8 (June 26-July 1) – Dan Ward, 3B, Utica Unicorns
Week 9 (July 2-8) – Jimmy Latona, C, Utica Unicorns
Week 10 (July 9-15) – Jack Hranec, 1B, Birmingham Bloomfield Beavers
Week 11 (July 16-22) – Gunnar Buhner, INF, Eastside Diamond Hoppers
Week 12 (July 23-29) – Dan Ward, INF, Utica Unicorns
Week 13 (July 30-Aug. 5) – Brandon Rawe, OF, Birmingham Bloomfield Beavers
Week 14 (Aug. 6-12) – Dan Elliott, 1B, Utica Unicorns
#YourSummerDestination