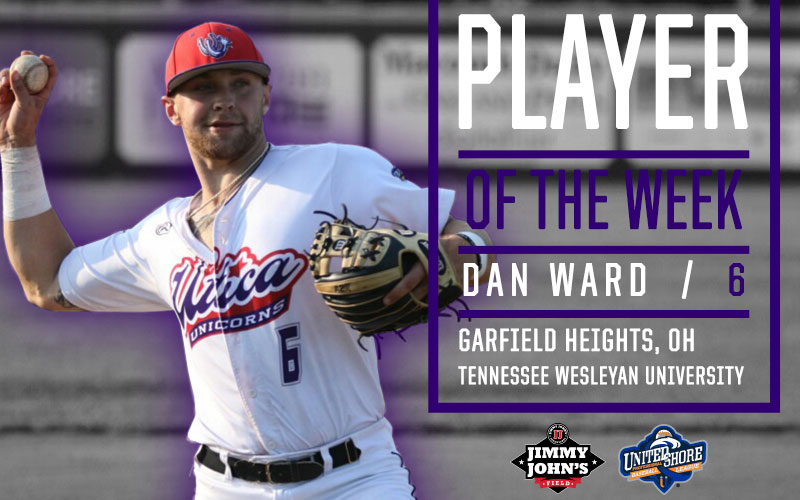 Dan Ward Earns USPBL Player of the Week
July 2nd, 2018
UTICA, Mich. – After leading the Utica Unicorns to a 1-1 week, third baseman Dan Ward has been named United Shore Professional Baseball League Player of the Week, announced by the league office on Monday. Ward, a native of Garfield Heights, Ohio, leads the USPBL with 18 runs batted in this season.
Ward began the week with a double off the fence in Friday night's game versus the Eastside Diamond Hoppers and followed with a 425-foot home run to center field, finishing the game 2-for-3 with a game-high five RBIs. The 6-foot-4 infielder then led the Unicorns to a 5-4 win on Saturday night, going 2-for-4 and drove in a run.
In two games played, Ward batted .571 and posted a 1.000 slugging percentage. He tallied a .667 on-base percentage and drove in a league-best six runs. Ward is tied for the league lead with four home runs on the season.
Ward will be one of the competitors in the Rawlings Home Run Derby on Saturday, July 7, at 5:30 p.m. Gates open at 5 p.m. The All-Star Game will immediately follow the Home Run Derby.
Celebrate the Fourth of July at Jimmy John's Field as the Birmingham Bloomfield Beavers take on the Eastside Diamond Hoppers at 7:05 p.m. Gates will open at 6 p.m. and the first 750 kids will receive a Youth T-Shirt Jersey Giveaway, similar to the special Star Spangled Banner Jerseys the Beavers will be wearing. Kids 12 and under will EAT FREE, and a Fireworks Spectacular will follow the game.
To purchase tickets, please click here.
PLAYERS OF THE WEEK
Week 1 (May 11-13) – Chris Mangus, 1B/DH, Eastside Diamond Hoppers
Week 2 (May 14-20) – Ethan Wiskur, OF, Westside Woolly Mammoths
Week 3 (May 21-27) – Jalin Lawson, 2B, Westside Woolly Mammoths
Week 4 (May 28-June 3) – Spencer Ibarra, OF, Utica Unicorns
Week 5 (June 4-10) – Carter Grote, INF/OF, Utica Unicorns
Week 6 (June 11-17) – Ryan Smith, OF, Birmingham Bloomfield Beavers
Week 7 (June 18-25) – Cody Brown, RHP, Utica Unicorns
Week 8 (June 26-July 1) – Dan Ward, 3B, Utica Unicorns
#YourSummerDestination