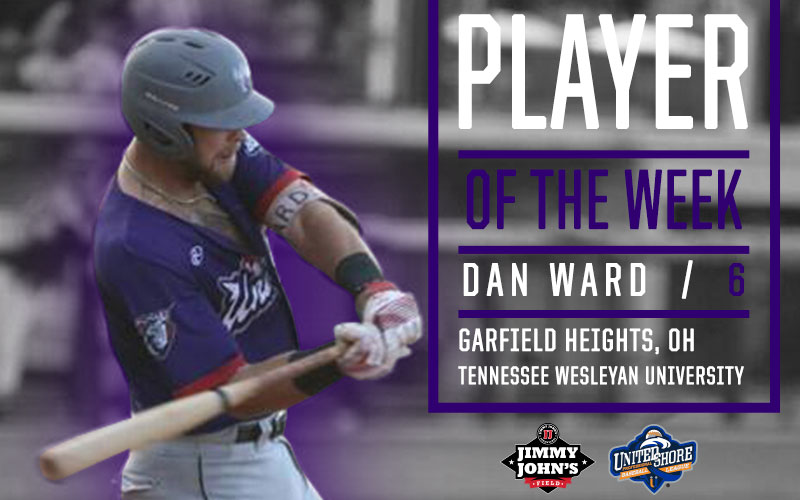 Dan Ward Tabbed USPBL Player of the Week
July 30th, 2018
ROCHESTER, Mich. – Dan Ward was named the United Shore Professional Baseball Player of the Week, announced by the league office on Monday. Ward, an infielder for the Utica Unicorns, becomes the first player in the league to earn the distinction for the second time this season (Week 8, 12).
Ward led the Unicorns to a 6-4 win over the Eastside Diamond Hoppers on Saturday night, hitting the scoreboard on his first home run of the game, and later homered to left-center field. He finished 2-for-4 in the game with his two home runs and two RBIs.
A native of Garfield Heights, Ohio, Ward leads the USPBL with seven home runs this season. He holds the league's best batting average at .317 and the top slugging percentage at .540.
Ward finished last week with a .462 batting average (6-for-13), three doubles, two home runs and drove in three runs. He has the Unicorns sitting atop the East standings, holding a half-game lead over the Eastside Diamond Hoppers.
Thirsty Thursday includes a $15 All-You-Can-Eat Wings option now in the Short Hops Craft Beer Garden, that includes one 16 ounce craft beer. Thursdays also include the popular $2 Bud and Bud Light, as well as $5 specials on craft beers.
MetroPCS Fireworks Spectacular returns on Friday, and German-American Heritage Night will be on Saturday. Sunday Fun Day includes Kids Fest and Dino Day that will feature a Stars of the USPBL Poster Giveaway to the first 750 fans through the gates.
To purchase tickets and view the schedule, please click here.
PLAYERS OF THE WEEK
Week 1 (May 11-13) – Chris Mangus, 1B/DH, Eastside Diamond Hoppers
Week 2 (May 14-20) – Ethan Wiskur, OF, Westside Woolly Mammoths
Week 3 (May 21-27) – Jalin Lawson, 2B, Westside Woolly Mammoths
Week 4 (May 28-June 3) – Spencer Ibarra, OF, Utica Unicorns
Week 5 (June 4-10) – Carter Grote, INF/OF, Utica Unicorns
Week 6 (June 11-17) – Ryan Smith, OF, Birmingham Bloomfield Beavers
Week 7 (June 18-25) – Cody Brown, RHP, Utica Unicorns
Week 8 (June 26-July 1) – Dan Ward, 3B, Utica Unicorns
Week 9 (July 2-8) – Jimmy Latona, C, Utica Unicorns
Week 10 (July 9-15) – Jack Hranec, 1B, Birmingham Bloomfield Beavers
Week 11 (July 16-22) – Gunnar Buhner, INF, Eastside Diamond Hoppers
Week 12 (July 23-29) – Dan Ward, INF, Utica Unicorns
#YourSummerDestination