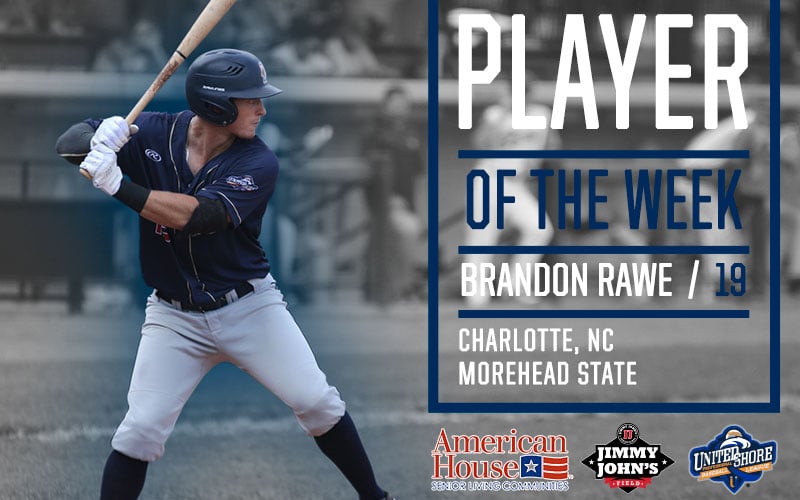 Brandon Rawe Tabbed USPBL Player of the Week
August 6th, 2018
ROCHESTER, Mich. – Birmingham Bloomfield Beavers outfielder Brandon Rawe earned United Shore Professional Baseball League American House Player of the Week, announced by the league office on Monday. Rawe tied the single-game USPBL record with two home runs last Friday against the Unicorns.
In front of a sell out crowd, Rawe delivered two home runs and drove in five runs as the Beavers defeated the Unicorns, 11-5. The two teams combined for a league record seven home runs.
For the week, Rawe batted .455 (5-for-11), with a league-best three home runs, nine runs batted in, and 1.364 slugging percentage. He earned two walks and tallied an on-base percentage of .467.
A native of Charlotte, N.C., Rawe has helped the Beavers take over first place in the USPBL with an overall record of 19-15. Birmingham Bloomfield holds a 2.5 game lead over the Westside Woolly Mammoths in the West Division and 2.0 game lead over the Eastside Diamond Hoppers for the best overall record.
Games will take place Thursday-Sunday this week, including JJ The Field General Bobblehead Night on Thirsty Thursday, $15 All-You-Can-Eat Wings, Catholic Night at the Ballpark on Friday, along with metroPCS Fireworks Spectacular and the first-ever Teen Night in the Chevy Pavilion.
The World Famous ZOOperstars! are coming to Jimmy John's Field on Saturday and Sunday.
To purchase tickets and view the schedule, please click here.
PLAYERS OF THE WEEK
Week 1 (May 11-13) – Chris Mangus, 1B/DH, Eastside Diamond Hoppers
Week 2 (May 14-20) – Ethan Wiskur, OF, Westside Woolly Mammoths
Week 3 (May 21-27) – Jalin Lawson, 2B, Westside Woolly Mammoths
Week 4 (May 28-June 3) – Spencer Ibarra, OF, Utica Unicorns
Week 5 (June 4-10) – Carter Grote, INF/OF, Utica Unicorns
Week 6 (June 11-17) – Ryan Smith, OF, Birmingham Bloomfield Beavers
Week 7 (June 18-25) – Cody Brown, RHP, Utica Unicorns
Week 8 (June 26-July 1) – Dan Ward, 3B, Utica Unicorns
Week 9 (July 2-8) – Jimmy Latona, C, Utica Unicorns
Week 10 (July 9-15) – Jack Hranec, 1B, Birmingham Bloomfield Beavers
Week 11 (July 16-22) – Gunnar Buhner, INF, Eastside Diamond Hoppers
Week 12 (July 23-29) – Dan Ward, INF, Utica Unicorns
Week 13 (July 30-Aug. 5) – Brandon Rawe, OF, Birmingham Bloomfield Beavers
#YourSummerDestination