Sponsorship Opportunities

Whether you are looking to build brand awareness or expand upon community involvement, the USPBL and Jimmy John's  Field offer unique, FUN sponsorship opportunities to help you grow your business! We strive to create lasting corporate partnerships, and consistently go above and beyond to make sure all of our partnerships are mutually beneficial.
The USPBL provides a platform for companies and organizations to reach hundreds of thousands of consumers. Jimmy John's Field brings family-friendly entertainment to fans of all ages. It is our goal to help sponsors reach these fans through customized partnerships that meet the client's goals and budgets.


For wonderful exposure to a captive and very happy audience, ballpark signage offers your company a desirable method to reach several hundred thousand potential customers each year. From the massive LED HD Main Scoreboard to unique placements, such as foul poles, these are countless opportunities to increase your company's top-of-mind awareness. These image-building forms of marketing are always in high demand and provide value and prestige for your business.
Naming Rights
Your company's name becomes a reference point of the ballpark and is featured on signage, the seating chart, and in many marketing collateral pieces. Potential opportunities: Right Field Lawn, Parking Lot
Outfield Wall Signage
Outfield wall signs are one of the most highly sought after pieces of real estate in the ballpark, providing direct viewing throughout the game and in media coverage. Potential opportunities: Left Field Wall Sign (6′ x 12′), Center Field Wall Sign (5′ x 7′), 1st and 3rd Base Wall Sign (3′ x 20′)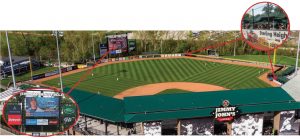 Main Scoreboard Signage
The focal point of fans during USPBL games at Jimmy John's Field is the 50′ x 80′, state-of-the-art, high definition scoreboard, which is one of the largest in all of minor league sports.
Concourse TV Signage
These 8 prominent television monitors are showcased right inside the main gates to the ballpark, where they have been strategically placed for high traffic exposure every game.


Program Ads
The USPBL and its media partners produce over 100,000 programs every season that are distributed to all fans for free as they enter the ballpark. This material can provide your company with an outlet to convey your desired message while producing several hundred thousand impressions over a season.
Social Media Ads
Reach fans of the USPBL through social media ads on Facebook, Instagram, and Twitter. Provides a reach of over 500,000.
E-Newsletter
Be part of our e-Newsletter, "The Dirt," that is sent out weekly throughout the season. Material can be used as a branding ad, bounce-back coupon, or to drive traffic directly to your own business.


Showcase your business with a high-profile concourse location to reach new customers, promote products or collect leads and other information. Available options include concourse tables, displays near front entrance, and exit marketing.


Sponsor an in-field contest and have all the eyes of everyone at jimmy John's Field focused  on your company name and logo at very game. In-game promotions have endless possibilities and can be paired to specific details of your company. The USPBL's promotional staff can tailor any promotion to fit perfectly with your company's marketing objectives.


Event sponsorships provide your company with a platform to obtain exposure in a creative way through giveaway items, fireworks, entertainment acts, theme nights and special events.


In 2020, the pandemic led to the launch of the USPBL Network to help provide more exposure to games and our partners. The broadcast is a high quality, 4-camera production with professional announcers, reporters, and directing, and is streamed live on Facebook, YouTube, and Twitch.
Segment Spotlight
The UPBL offers a variety of player and fan spotlights.
Commercials
Bring your company's message to life with 15 and 30 second commercials that run during inning breaks and other natural breaks.
Logo Placement
Your logo can be seen throughout the entire broadcast with placement on the scorebug.
Presenting Sponsor
Sponsor a game in the USPBL Network for premium logo placement, sharing and interview opportunities, and collecting comments to gauge fan interaction.


Email
sponsorship@uspbl.com
Phone
(248) 601-2400 ext. 6


"Thanks once again for the great opportunity to attend the game. Your hospitality is over the top. I am truly blown away by what you have accomplished, congratulations and continued success." – Scott LaRiche, Metro Detroit Chevy Dealers Association
"I just wanted to thank you again for the hospitality at the game Saturday evening. You and your tram went above and beyond for us and we greatly appreciate it. Thank you for the partnership." – Jessica Brideau, DTE Energy
"Congratulations to you and your entire organization on all of your success to date. It is an honor and pleasure to partner with you and your team! Wishing you much success during the remainder of the season." – Joe Hurshe, Chief Operating Officer, Ascension Michigan
"Thanks for providing us with some baseball entertainment during the most 'interesting' of times. I've really enjoyed watching your games and the broadcasting was excellent." – Jane Shumaker