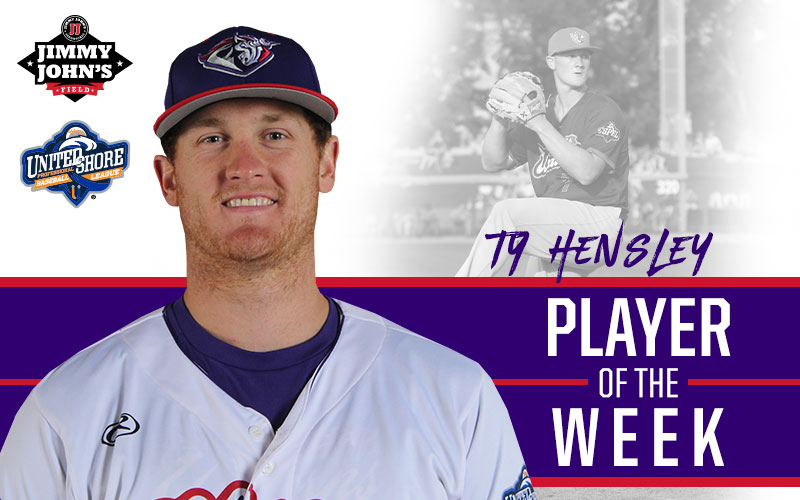 Hensley Earns USPBL Player of the Week
August 26th, 2019
ROCHESTER, Mich. – Utica Unicorns Ty Hensley is the United Shore Professional Baseball League's Player of the Week, announced by the league office on Monday. Hensley, a former first round draft pick of the New York Yankees, earns the distinction for the first time this season.
A native of Edmonds, Okla., Hensley kept the Birmingham Bloomfield Beavers off balance all game long last Saturday night. He pitched 7.0 innings, allowing no runs, two hits and struck out a season-best nine batters. Since arriving to the USPBL this season, Hensley has thrown seven or more innings on two occasions for the first time since high school and has doubled the amount of innings he has thrown in his entire minor league career.
The Unicorns are in first place at 26-20 heading into the final week of the regular season. The No. 1 seed for the USPBL Playoffs (Sept. 6-8) will earn a spot in the championship game on Sunday, Sept. 8.
Hensley will make his final regular season start this Saturday at Jimmy John's Field against the Westside Woolly Mammoths at 7:05 p.m. The Unicorns will take on the the Diamond Hoppers on Thursday night at 7:05 p.m.
2019 USPBL Players of the Week
Week 1 (May 10-12) – Luis Contreras, RHP, Diamond Hoppers – Full story
Week 2 (May 13-19) – Nick Campana, OF, Beavers – Full story
Week 3: (May 20-27) – Sonny Cortez, OF, Woolly Mammoths / Luis Contreras, RHP, Diamond Hoppers – Full story
Week 4: (May 31-June 2) – Ethan Wiskur, OF, Woolly Mammoths – Full story
Week 5: (June 3-9): – Ross Haffey, 1B, Beavers – Full story
Week 6: (June 10-16) – Alec Craig, 2B, Woolly Mammoths – Full story
Week 7: (June 17-23) – Jake Pulcheon, 1B, Woolly Mammoths – Full story
Week 8: (June 24-30) – Colie Currie, OF, Unicorns – Full story
Week 9: (July 1-7) – Pat Adams, OF, Diamond Hoppers – Full story
Week 10: (July 8-14) – Matt Cronin, RHP, Woolly Mammoths – Full story
Week 11: (July 15-21) – JaVon Shelby, INF, Woolly Mammoths – Full story
Week 12: (July 22-28) – Pat Adams, OF, Diamond Hoppers – Full story
Week 13: (July 29-Aug. 4) – Garrett Christman, RHP, Beavers – Full story
Week 14: (Aug. 5-11) – Zack Gray, UT, Diamond Hoppers – Full story
Week 15: (Aug. 13-18) – Collin Ridout, 3B, Unicorns – Full story
Week 16: (Aug. 19-25) – Ty Hensley, RHP, Unicorns
#MakeTimeForFun
#YourSummerDestination
#UnicornsUnite