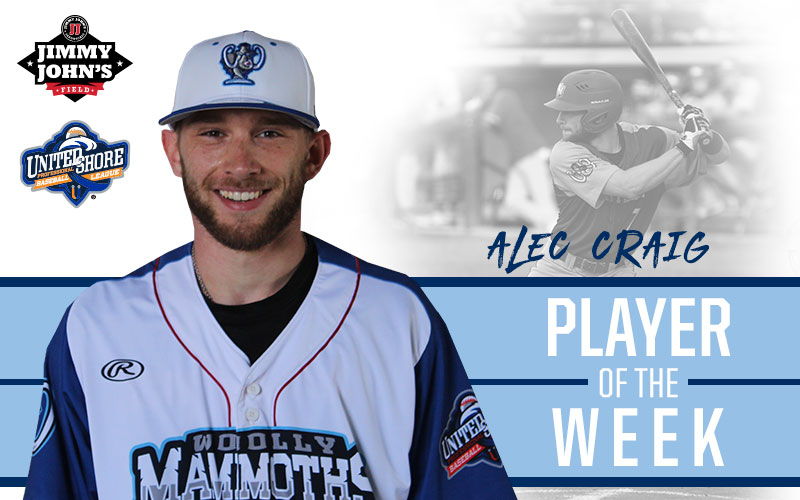 Craig Tabbed USPBL Player of the Week
June 17th, 2019
ROCHESTER, Mich. – Westside Woolly Mammoths second baseman Alec Craig is the United Shore Professional Baseball League Player of the Week for June 10-16, announced by the league office on Monday. Craig led the league with a .667 batting average last week.
A native of Sicklerville, N.J., Craig started the week with a 2-for-3 performance against the Birmingham Bloomfield Beavers, adding a double, run scored and two stolen bases. He followed that up with a 3-for-5 showing in a rout over the Diamond Hoppers, scoring three runs and adding a pair of doubles. In his final game, Craig went 3-for-4, scoring three times and driving in one run to lead the Woolly Mammoths to an 11-2 win over the first-place Utica Unicorns.
For the week, Craig went 8-for-12 (.667), with seven runs scored, four RBIs, four doubles, three walks, four stolen bases and posted an impressive .733 on-base percentage. He signed after the College Senior Showcase on Monday, June 10, and in just three games played, has four doubles and is third in the USPBL.
Craig and the Woolly Mammoths have won two straight games for the first time this season. They will take on the Unicorns this Wednesday night, 7:05 p.m. at Jimmy John's Field. It's Ladies Night at the ballpark, presented by Francis Ford Coppola Winery and gates open at 6 p.m.
2019 USPBL Players of the Week
Week 1 (May 10-12) – Luis Contreras, RHP, Diamond Hoppers – Full story
Week 2 (May 13-19) – Nick Campana, OF, Beavers – Full story
Week 3: (May 20-27) – Sonny Cortez, OF, Woolly Mammoths / Luis Contreras, RHP, Diamond Hoppers – Full story
Week 4: (May 31-June 2) – Ethan Wiskur, OF, Woolly Mammoths – Full story
Week 5: (June 3-9): – Ross Haffey, 1B, Beavers – Full story
Week 6: (June 10-16) – Alec Craig, 2B, Woolly Mammoths
#YourSummerDestination #TrustTheTusk