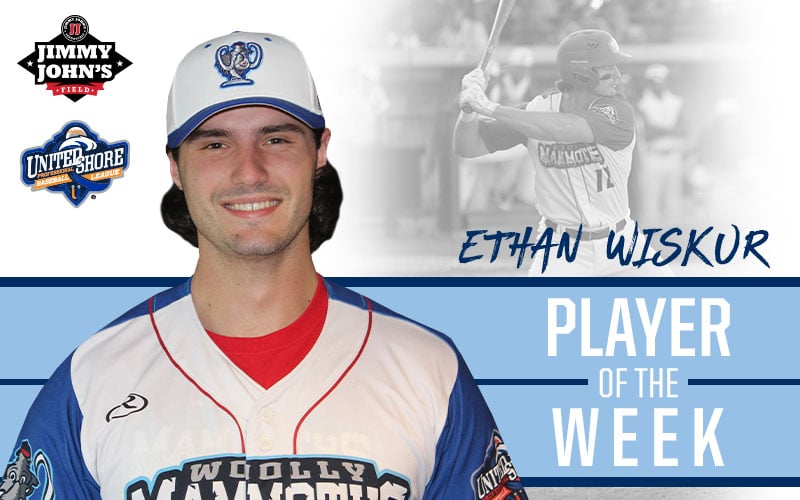 Wiskur Tabbed USPBL Player of the Week
June 3rd, 2019
ROCHESTER, Mich. – Westside Woolly Mammoths outfielder Ethan Wiskur has been named the United Shore Professional Baseball League's Player of the Week, announced by the league office on Monday. Wiskur, a native of Clio, Mich., collects the honor for the first time this season and fourth time in his career.
Wiskur is currently riding a six-game hitting streak for the Woolly Mammoths and ranks fourth in the league with 13 hits in 10 games played. After a tough start, Wiskur has pushed his batting average to .310 and ranks No. 6 in the USPBL.
Last year's Co-MVP, Wiskur batted .556 last week (5-for-9), tallying two doubles, two runs batted in, and scored one run. He led the league with a .778 slugging percentage and has reached base safely in his last seven games, after a difficult 1-for-14 start this season.
Wiskur and the Woolly Mammoths will be in action this Saturday and Sunday against the Diamond Hoppers and Beavers. Games will take place at Jimmy John's Field all weekend long, Thursday-Sunday, June 6-9.
2019 USPBL Players of the Week
Week 1 (May 10-12) – Luis Contreras, RHP, Diamond Hoppers – Full story
Week 2 (May 13-19) – Nick Campana, OF, Beavers – Full story
Week 3: (May 20-27) – Sonny Cortez, OF, Woolly Mammoths / Luis Contreras, RHP, Diamond Hoppers – Full story
Week 4: (May 31-June 2) – Ethan Wiskur, OF, Woolly Mammoths – Full story
#YourSummerDestination #TrustTheTusk