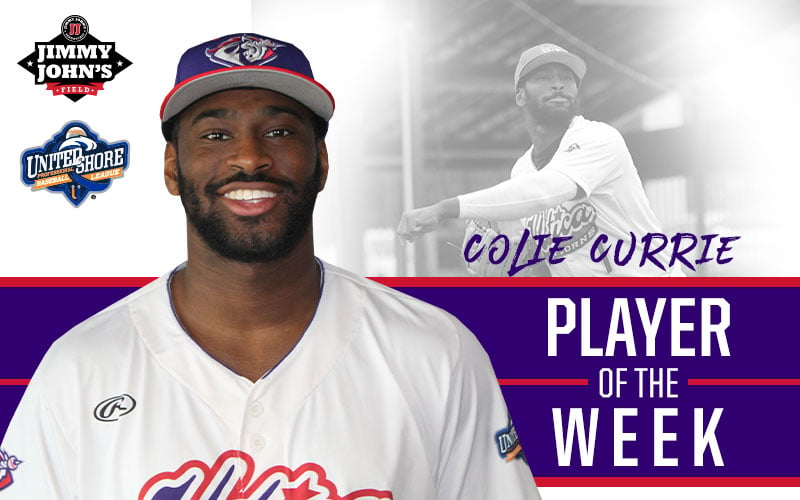 Colie Currie Earns USPBL Player of the Week
July 1st, 2019
ROCHESTER, Mich. – Utica Unicorns outfielder Colie Currie is the United Shore Professional Baseball League's Player of the Week for June 24-30, announced by the league office on Monday. Currie earns the accolade for the first time this season.
Currie started the week by going 2-for-3 with a double and home run as the Unicorns beat the Birmingham Bloomfield Beavers, 7-5. A native of Jackson, Tenn., Currie had two of the Unicorns four hits in a 1-0 loss against the Westside Woolly Mammoths, and then cranked his second home run of the week against the Eastside Diamond Hoppers on Friday night.
For the week, Currie batted .500 (6-for-12) with two home runs, two doubles and two runs batted in. He posted an impressive 1.167 slugging percentage and .538 on-base percentage.
Currie and the Unicorns will take on the Diamond Hoppers on the Fourth of July at 7:05 p.m. Gates will open at 6 p.m.
2019 USPBL Players of the Week
Week 1 (May 10-12) – Luis Contreras, RHP, Diamond Hoppers – Full story
Week 2 (May 13-19) – Nick Campana, OF, Beavers – Full story
Week 3: (May 20-27) – Sonny Cortez, OF, Woolly Mammoths / Luis Contreras, RHP, Diamond Hoppers – Full story
Week 4: (May 31-June 2) – Ethan Wiskur, OF, Woolly Mammoths – Full story
Week 5: (June 3-9): – Ross Haffey, 1B, Beavers – Full story
Week 6: (June 10-16) – Alec Craig, 2B, Woolly Mammoths – Full story
Week 7: (June 17-23) – Jake Pulcheon, 1B, Woolly Mammoths – Full story
Week 8: (June 24-30) – Colie Currie, OF, Unicorns
#YourSummerDestination #UnicornsUnite