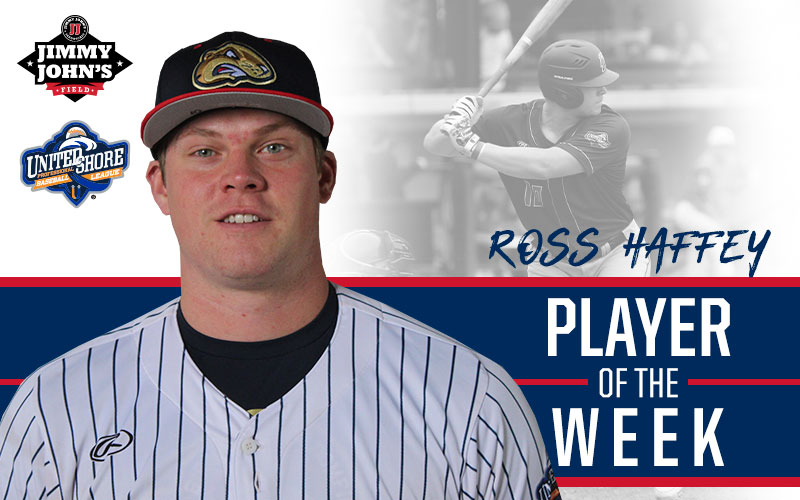 Birmingham Native Haffey Earns USPBL Player of the Week
June 10th, 2019
ROCHESTER, Mich. – Birmingham Bloomfield Beavers first baseman Ross Haffey has been tabbed the United Shore Professional Baseball League's Player of the Week, announced by the league office on Monday. Haffey, a native of Birmingham, Mich., earns the honor for the first time this season.
Haffey started in all three games last week, leading the Beavers to a 2-1 record. The Brother Rice graduate homered in all three games to take over the home run lead in the USPBL, posting an astounding 1.182 slugging percentage for the week. The 6-foot-5 inch infielder batted .364 and drove in six runs.
In the first game of the week, Haffey launched a home run in the eighth inning to give the Beavers a 2-0 lead over the Eastside Diamond Hoppers and secure the two-run victory. He followed that up with a 2-for-4 performance, including a home run against the first-place Utica Unicorns and homered on Sunday in a 9-2 win over the Westside Woolly Mammoths.
Haffey is currently riding a three-game home run streak and leads the Beavers with a five-game hitting streak. He is tied for the league-lead in home runs and leads the USPBL with a .941 slugging percentage.
2019 USPBL Players of the Week
Week 1 (May 10-12) – Luis Contreras, RHP, Diamond Hoppers – Full story
Week 2 (May 13-19) – Nick Campana, OF, Beavers – Full story
Week 3: (May 20-27) – Sonny Cortez, OF, Woolly Mammoths / Luis Contreras, RHP, Diamond Hoppers – Full story
Week 4: (May 31-June 2) – Ethan Wiskur, OF, Woolly Mammoths – Full story
Week 5: (June 3-9): – Ross Haffey, 1B, Beavers
#YourSummerDestination #BuzzinBeavers