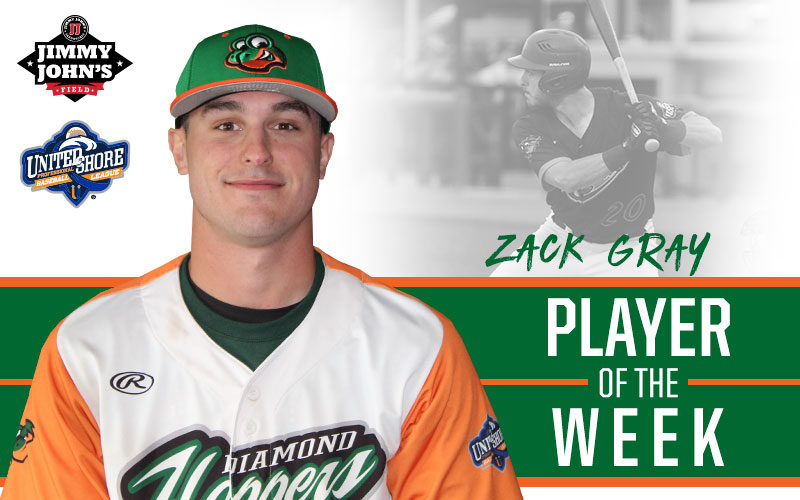 Zack Gray Earns USPBL Player of the Week
August 12th, 2019
ROCHESTER, Mich. – Eastside Diamond Hoppers Zack Gray has been selected as the United Shore Professional Baseball League's Player of the Week, announced by the league office on Monday. Gray, a native of Hamilton, Ohio, earns the honor for the first time this season.
Gray led the league with an impressive .667 batting average (6-for-9) last week over three games. He walked twice and posted a .727 on-base percentage.
It's been a tough season for the utility player, as Gray lost his father on July 2nd at 63 years old. Amazingly, he played two days later on July 4th and went 2-for-4 with a double and four runs batted in.
On the season, Gray has started in 34 of 35 games played in, batting .277 with seven doubles, one triple, one home run, 14 walks and 20 RBIs. He ranks tied for third in the USPBL in doubles and tied for ninth in RBIs.
Gray and the Diamond Hoppers will be in action this Wednesday against the Westside Woolly Mammoths at 7:05 p.m. Gates open at 6 p.m. for ALS Awareness Night on 2-for-1 Wednesdays that include buy 1 grandstand ticket, get 1 FREE, and buy 1 hot dog and get 1 FREE. Fans can take batting practice on the field after the game.
2019 USPBL Players of the Week
Week 1 (May 10-12) – Luis Contreras, RHP, Diamond Hoppers – Full story
Week 2 (May 13-19) – Nick Campana, OF, Beavers – Full story
Week 3: (May 20-27) – Sonny Cortez, OF, Woolly Mammoths / Luis Contreras, RHP, Diamond Hoppers – Full story
Week 4: (May 31-June 2) – Ethan Wiskur, OF, Woolly Mammoths – Full story
Week 5: (June 3-9): – Ross Haffey, 1B, Beavers – Full story
Week 6: (June 10-16) – Alec Craig, 2B, Woolly Mammoths – Full story
Week 7: (June 17-23) – Jake Pulcheon, 1B, Woolly Mammoths – Full story
Week 8: (June 24-30) – Colie Currie, OF, Unicorns – Full story
Week 9: (July 1-7) – Pat Adams, OF, Diamond Hoppers – Full story
Week 10: (July 8-14) – Matt Cronin, RHP, Woolly Mammoths – Full story
Week 11: (July 15-21) – JaVon Shelby, INF, Woolly Mammoths – Full story
Week 12: (July 22-28) – Pat Adams, OF, Diamond Hoppers – Full story
Week 13: (July 29-Aug. 4) – Garrett Christman, RHP, Beavers – Full story
Week 14: (Aug. 5-11) – Zack Gray, UT, Eastside Diamond Hoppers
#MakeTimeForFun
#YourSummerDestination
#HopOn