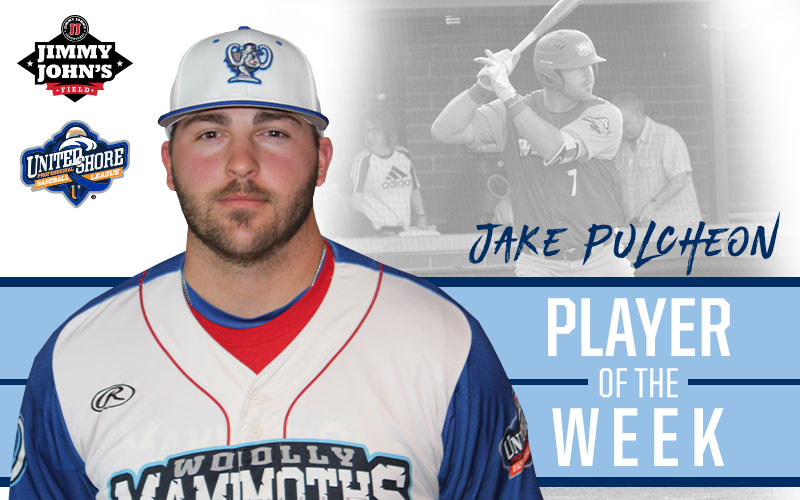 USPBL Names Westside's Pulcheon Player of the Week
June 24th, 2019
ROCHESTER, Mich. – Westside Woolly Mammoths Jake Pulcheon is the United Shore Professional Baseball League's Player of the Week for June 17-23, announced by the league office on Monday. Pulcheon, a native of Menifee, Calif., earns the accolade for the first time this season.
Pulcheon has been a reliable bat for the Woolly Mammoths in the middle of their lineup during their five-game winning streak. The 6-foot-4 inch first baseman started the week with a 3-for-4 performance against the Unicorns, driving in two runs and had one double. He followed that up with two RBIs in a win over the Diamond Hoppers, and ended the weekend with a 2-for-5 performance against the Beavers.
For the week, Pulcheon hit a league-best .462 (6-for-13), driving in four runs and posting a league-high .769 slugging percentage. He ranks third in the league in batting average (.339), on-base percentage (.456) and fourth in slugging percentage (.482).
Pulcheon and the Mammoths will be in action this Thursday as they face the first-place Utica Unicorns at 7:05 p.m. Gates open at 6 p.m. for Polish-American Heritage Night, presented by Polish-American Federal Credit Union.
2019 USPBL Players of the Week
Week 1 (May 10-12) – Luis Contreras, RHP, Diamond Hoppers – Full story
Week 2 (May 13-19) – Nick Campana, OF, Beavers – Full story
Week 3: (May 20-27) – Sonny Cortez, OF, Woolly Mammoths / Luis Contreras, RHP, Diamond Hoppers – Full story
Week 4: (May 31-June 2) – Ethan Wiskur, OF, Woolly Mammoths – Full story
Week 5: (June 3-9): – Ross Haffey, 1B, Beavers – Full story
Week 6: (June 10-16) – Alec Craig, 2B, Woolly Mammoths – Full story
Week 7: (June 17-23) – Jake Pulcheon, Woolly Mammoths
#YourSummerDestination #TrustTheTusk