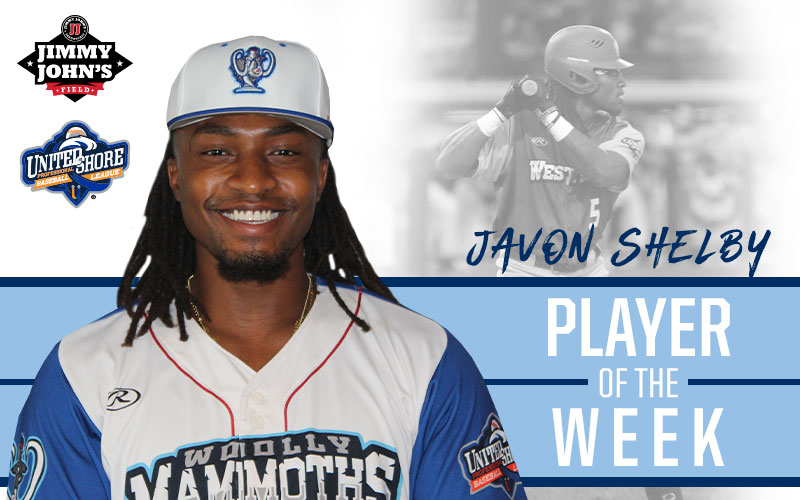 Shelby Tabbed USPBL Player of the Week
July 23rd, 2019
ROCHESTER, Mich. – JaVon Shelby from the Westside Woolly Mammoths is the United Shore Professional Baseball League's Player of the Week for July 15-21, announced by the league office on Tuesday. Shelby, a native of Lexington, Ky., earns the honor for the first time this season.
After playing collegiately at the University of Kentucky, Shelby has been one of the top power hitters in the USPBL. He blasted three home runs over the weekend and posted a 1.000 slugging percentage for the week.
In a 7-2 win on Thursday night, Shelby connected on his fourth home run of the season for the Woolly Mammoths. He followed that up by driving in all six runs in a 6-1 win on Friday night over the Diamond Hoppers, slugging a grand slam and a two-run home run.
Shelby now has six home runs on the season and trails the league leader by one. He and the Woolly Mammoths will face the first-place Birmingham Bloomfield Beavers on Wednesday night at 7:05 p.m.
2019 USPBL Players of the Week
Week 1 (May 10-12) – Luis Contreras, RHP, Diamond Hoppers – Full story
Week 2 (May 13-19) – Nick Campana, OF, Beavers – Full story
Week 3: (May 20-27) – Sonny Cortez, OF, Woolly Mammoths / Luis Contreras, RHP, Diamond Hoppers – Full story
Week 4: (May 31-June 2) – Ethan Wiskur, OF, Woolly Mammoths – Full story
Week 5: (June 3-9): – Ross Haffey, 1B, Beavers – Full story
Week 6: (June 10-16) – Alec Craig, 2B, Woolly Mammoths – Full story
Week 7: (June 17-23) – Jake Pulcheon, 1B, Woolly Mammoths – Full story
Week 8: (June 24-30) – Colie Currie, OF, Unicorns – Full story
Week 9: (July 1-7) – Pat Adams, OF, Diamond Hoppers – Full story
Week 10: (July 8-14) – Matt Cronin, RHP, Woolly Mammoths – Full story
Week 11: (July 15-21) – JaVon Shelby, INF, Woolly Mammoths
#YourSummerDestination #TrustTheTusk