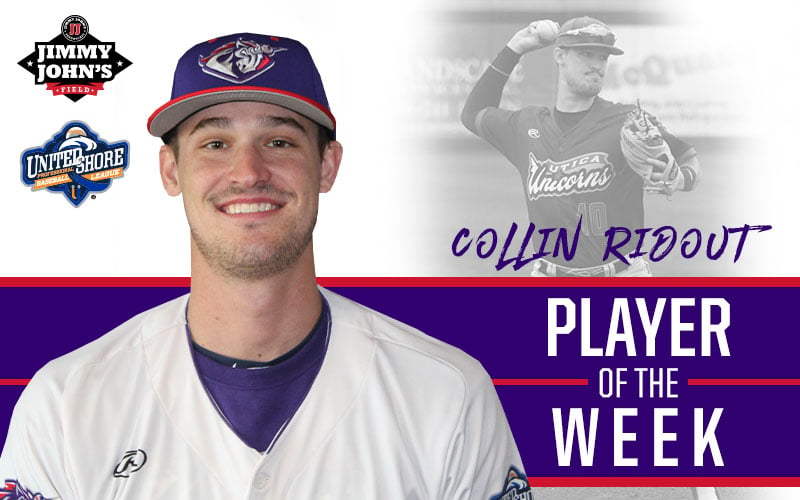 Ridout Tabbed USPBL Player of the Week
August 19th, 2019
USPBL Standings | League Leaders

ROCHESTER, Mich. – Utica Unicorns infielder Collin Ridout was named the United Shore Professional Baseball League's Player of the Week for August 13-18, announced by the league office on Monday. Ridout is currently riding a 17-game hitting streak.
A native of McHenry, Ill., Ridout hit .636 for the week (7-for-11), with two runs batted in, three runs scored and one triple. He finished with an impressive .818 slugging percentage and .636 on-base percentage.
Ridout helped lead Utica to a 2-1 record last week and a one-game lead in the USPBL standings over the Birmingham Bloomfield Beavers and Westside Woolly Mammoths. He posted two or more hits in every game, tallying a 3-for-4 performance against the Mammoths on Friday night.
Ridout and the Unicorns will be in action again this Friday and Saturday at Jimmy John's Field. Utica will take on the Woolly Mammoths on Friday night and the Beavers on Saturday.
2019 USPBL Players of the Week
Week 1 (May 10-12) – Luis Contreras, RHP, Diamond Hoppers – Full story
Week 2 (May 13-19) – Nick Campana, OF, Beavers – Full story
Week 3: (May 20-27) – Sonny Cortez, OF, Woolly Mammoths / Luis Contreras, RHP, Diamond Hoppers – Full story
Week 4: (May 31-June 2) – Ethan Wiskur, OF, Woolly Mammoths – Full story
Week 5: (June 3-9): – Ross Haffey, 1B, Beavers – Full story
Week 6: (June 10-16) – Alec Craig, 2B, Woolly Mammoths – Full story
Week 7: (June 17-23) – Jake Pulcheon, 1B, Woolly Mammoths – Full story
Week 8: (June 24-30) – Colie Currie, OF, Unicorns – Full story
Week 9: (July 1-7) – Pat Adams, OF, Diamond Hoppers – Full story
Week 10: (July 8-14) – Matt Cronin, RHP, Woolly Mammoths – Full story
Week 11: (July 15-21) – JaVon Shelby, INF, Woolly Mammoths – Full story
Week 12: (July 22-28) – Pat Adams, OF, Diamond Hoppers – Full story
Week 13: (July 29-Aug. 4) – Garrett Christman, RHP, Beavers – Full story
Week 14: (Aug. 5-11) – Zack Gray, UT, Eastside Diamond Hoppers – Full story
Week 15: (Aug. 13-18) – Collin Ridout, 3B, Utica Unicorns
#MakeTimeForFun
#YourSummerDestination
#UnicornsUnite