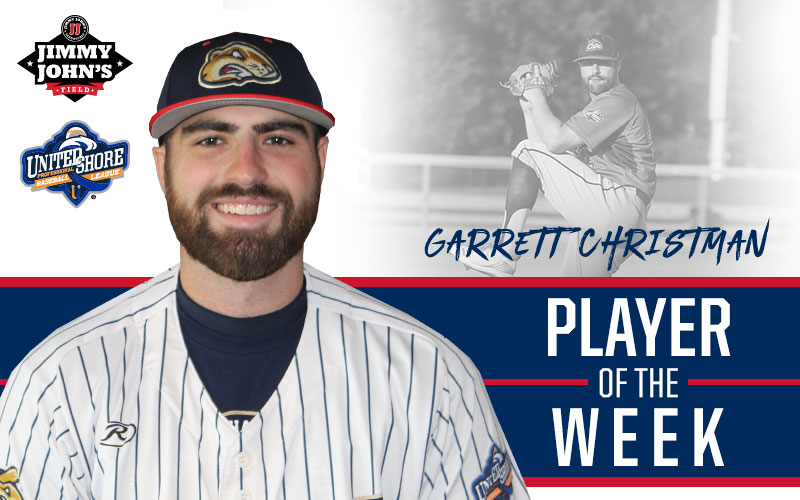 Christman Earns USPBL Player of the Week
August 5th, 2019
ROCHESTER, Mich. – Birmingham Bloomfield Beavers Garrett Christman was named the United Shore Professional Baseball League Player of the Week for July 29-Aug. 4, announced by the league office on Monday. Christman, a former draft pick of the San Francisco Giants, earns the honor for the first time this season.
On Thursday night, Christman tossed a 7.0 scoreless innings, striking out five and allowed just two hits in the Beavers win over the Diamond Hoppers. A native of Noblesville, Ind., Christman leads the league in wins (4), strikeouts (53), innings pitched (69.2) and games started (13).
Christman and the Beavers will take on the Westside Woolly Mammoths on Wednesday night for Peanut Free and Gluten Free Night. The first-place showdown is slated to start at 7:05 p.m., gates open at 6 p.m.
2019 USPBL Players of the Week
Week 1 (May 10-12) – Luis Contreras, RHP, Diamond Hoppers – Full story
Week 2 (May 13-19) – Nick Campana, OF, Beavers – Full story
Week 3: (May 20-27) – Sonny Cortez, OF, Woolly Mammoths / Luis Contreras, RHP, Diamond Hoppers – Full story
Week 4: (May 31-June 2) – Ethan Wiskur, OF, Woolly Mammoths – Full story
Week 5: (June 3-9): – Ross Haffey, 1B, Beavers – Full story
Week 6: (June 10-16) – Alec Craig, 2B, Woolly Mammoths – Full story
Week 7: (June 17-23) – Jake Pulcheon, 1B, Woolly Mammoths – Full story
Week 8: (June 24-30) – Colie Currie, OF, Unicorns – Full story
Week 9: (July 1-7) – Pat Adams, OF, Diamond Hoppers – Full story
Week 10: (July 8-14) – Matt Cronin, RHP, Woolly Mammoths – Full story
Week 11: (July 15-21) – JaVon Shelby, INF, Woolly Mammoths – Full story
Week 12: (July 22-28) – Pat Adams, OF, Diamond Hoppers – Full story
Week 13: (July 29-Aug. 4) – Garrett Christman, RHP, Beavers
#MakeTimeForFun
#YourSummerDestination
#BuzzinBeavers