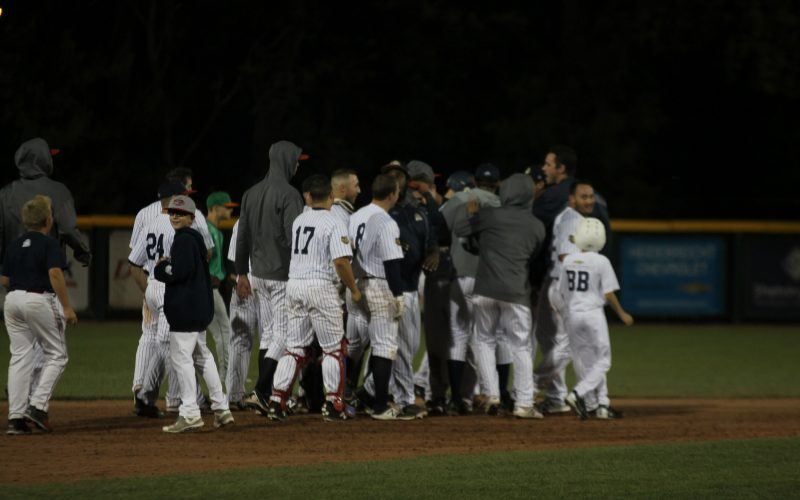 Beavers Come from Behind to Win 5-4
By Steve Marowski
Birmingham-Bloomfield Beavers 5 vs. Eastside Diamond Hoppers 4
Utica — After being down 4-0 after five innings, the Birmingham-Bloomfield Beavers came from behind to pick up a 5-4 victory over the Eastside Diamond Hoppers.
Brandon Rawe hit a walk-off RBI double to get the victory for the Beavers in the bottom of the ninth.
"The first pitch was a fastball low and away, and I had a feeling he wasn't going to throw back-to-back fastballs, and he left a breaking ball up that I put a good swing on," Rawe said.
The Diamond Hoppers scored two runs in the fourth inning on an RBI double by Casey Chenoweth and an RBI single from Brandon Oliver.
A two-run homer from John Menken in the top of the fifth put the Diamond Hoppers up 4-0.
Diamond Hoppers starting pitcher Tanner Kiest was stellar on the mound. Through five innings, he didn't allow a run, gave up two hits and had 11 strikeouts.
In the bottom of the sixth, Rob Paller hit a solo shot to right field to make it 4-1. The Beavers would tack on one more run later in the inning on an RBI single by Robert Lucido.
Dan Kennon hit a sacrifice fly in the bottom of the eighth to make it a 4-3 ballgame, and in the bottom of the ninth, an RBI double from Thomas Roulis tied the game at four and set up Rawe for the walk-off double.
"One pitch hurt is earlier in the game, but our guys kept battling and the only way you can win games like this is to have the utmost confidence in yourself," Beavers Manager Chris Newell said.
Menken was 3-4 with two RBI's in the loss.
Upcoming Games
Saturday, August 5, Utica Unicorns vs. Westside Woolly Mammoths, 7:05 p.m. (Pirates and Princesses Night)
Sunday, August 6, Utica Unicorns vs. Eastside Diamond Hoppers, 1:35 p.m. (Ribbi Bobblehead Giveaway/Doc McStuffins)
Standings
1. Eastside Diamond Hoppers 19-17
2. Birmingham-Bloomfield Beavers 19-18
3. Westside Woolly Mammoths 17-17
4. Utica Unicorns 17-20