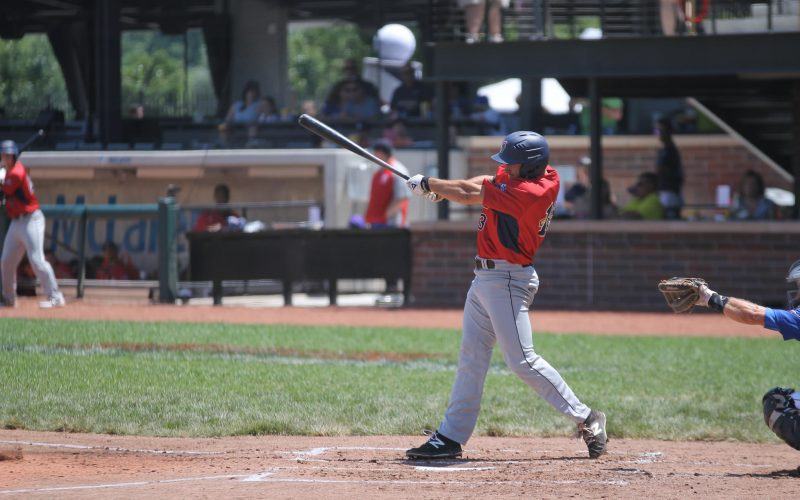 Beavers Take Down Hoppers 15-4
By Steve Marowski
Birmingham-Bloomfield Beavers 15 vs. Eastside Diamond Hoppers 4
Utica — The Birmingham-Bloomfield Beavers scored 15 runs on 18 hits and had a nine-run second inning to defeat the Eastside Diamond Hoppers, 15-4.
Beavers second baseman Thomas Roulis was 3-4 with two walks, three RBI's and three runs scored in the victory.
"I didn't try to do too much and I went up there looking for my pitch," said Roulis. "I think a few of my hits were with two strikes, so I just tried to shorten up and square the ball up."
The Beavers opened the scoring in the first inning on an RBI single by Rob Paller, but it was the second inning that put the game away for good.
Roulis hit an RBI triple down the right field line, and DonAndre Clark followed with an RBI single to give the Beavers a 3-0 lead. Paller hit a sacrifice fly to make it 4-0, and the Beavers went up 8-0 after four consecutive bases-loaded walks.
A two-RBI double by Brandon Rawe gave the Beavers a commanding 10-0 lead after two innings.
The Diamond Hoppers got two back in the bottom of the fourth on a two-RBI single by Brandon Oliver. However, the Beavers scored two runs of their own in the top of the sixth on an RBI single by Roulis.
In the top of the eighth, Nic Wilson hit a two-RBI single and Nick Buckner drew a bases-loaded walk to plate their fifteenth run. A two-run homer by John Kraft in the bottom of the eighth scored the fourth and final run for the Diamond Hoppers.
"This game was a testament to our guys," Beavers Manager Chris Newell said. "They really turned it on and strung some good at-bats together."
Upcoming Games
Friday, July 14, Westside Woolly Mammoths vs. Utica Unicorns, 7:05 p.m. (Fireworks Friday presented by Metro PCS)
Saturday, July 15, Eastside Diamond Hoppers vs. Utica Unicorns, 7:05 p.m. (WCSX Classic Rock Saturday/Girl Scouts Sleepover)
Sunday, July 16, Westside Woolly Mammoths vs. Birmingham-Bloomfield Beavers, 1:35 p.m. (Buzz Bobblehead Giveaway)
Standings
1. Eastside Diamond Hoppers 14-12
2.Utica Unicorns 14-12
3. Westside Woolly Mammoths 12-13
4. Birmingham-Bloomfield Beavers 12-15