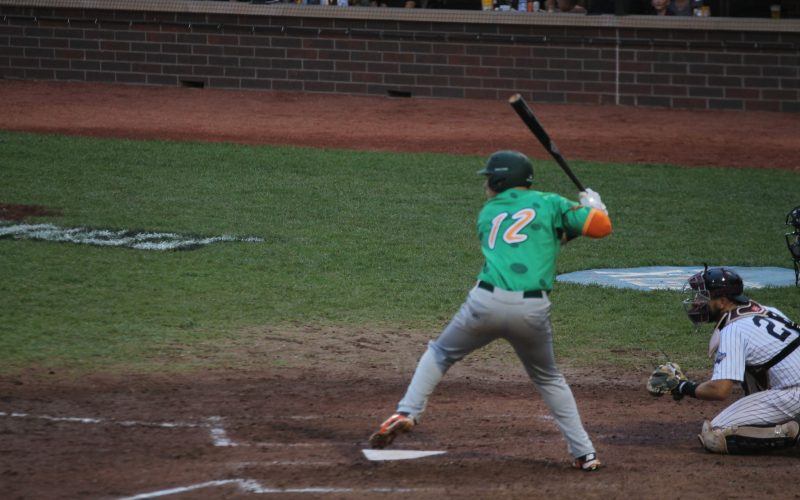 Diamond Hoppers Defeat Beavers 5-3
By Steve Marowski
Eastside Diamond Hoppers 5 vs. Birmingham-Bloomfield Beavers 3
Utica — John Menken and Mark Krueger each had two-run home runs in the Eastside Diamond Hoppers 5-3 victory over the Birmingham-Bloomfield Beavers.
In addition to his home run, Krueger also had an RBI single in the first inning and a walk in the eighth inning. He finished the game 2-3 with a walk, a run scored and three RBI's.
"Coming in, I think I wanted to do a little too much," Krueger said about his approach this season. "As the season has progressed, I've settled down and tried to stay within myself and do what I can at the plate."
Menken opened the scoring in the first inning with his two-run home run to left field. Krueger's single later in the inning extended the Diamond Hoppers lead to 3-0.
In the bottom of the third inning, Nic Wilson hit a two-RBI single to make it a 3-2 ballgame. However, Krueger's two-run home run in the top of the sixth inning would put the Diamond Hoppers up 5-2.
DonAndre Clark had an RBI single in the bottom of the sixth inning to score the Beavers third and final run.
"It was a well-played game on both sides of the field, but we scored some runs with the long ball," Diamond Hoppers Manager Paul Noce said.
Diamond Hoppers second baseman Kam Stewart was 2-5 with two runs scored in the victory. Beavers right fielder Nick Buckner was 2-3 with two walks.
Upcoming Games
Friday, June 16, Westside Woolly Mammoths vs. Utica Unicorns, 7:05 p.m. (Fireworks Friday/Meet the Unicorns)
Saturday, June 17, Eastside Diamond Hoppers vs. Utica Unicorns, 7:05 p.m. (WCSX Classic Rock Saturday/Grand Valley State University Night)
Sunday, June 18, Birmingham-Bloomfield Beavers vs. Westside Woolly Mammoths, 1:35 p.m. (Father's Day Cookout)