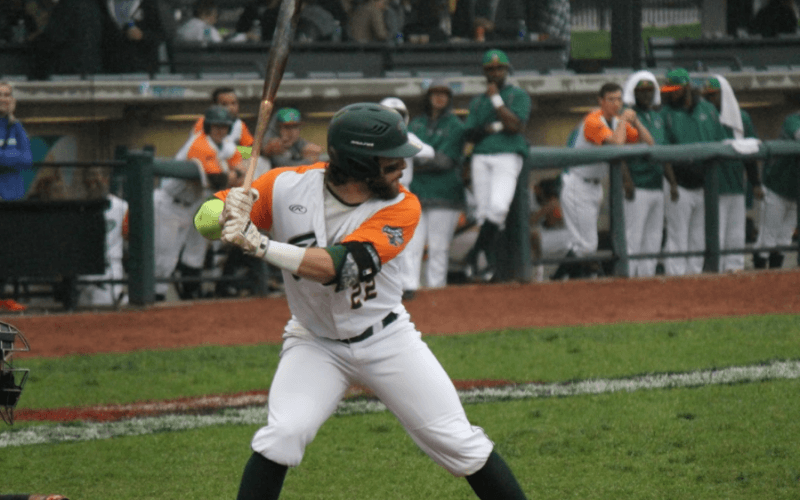 Diamond Hoppers Hold Beavers to One Hit, Win 3-2
By Steve Marowski
Eastside Diamond Hoppers 3 vs. Birmingham-Bloomfield Beavers 2
Utica — On a rainy night at Jimmy John's field, the Eastside Diamond Hoppers held the Birmingham-Bloomfield Beavers to just one hit in the Diamond Hoppers 3-2 victory.
The only hit for the Beavers came in the top of the first inning when Nic Wilson hit a solo home run to center field.
"When you get one hit and it comes in the first inning, it's going to be hard to win a ballgame," Beavers Manager Chris Newell said.
In the bottom of the first inning, the Diamond Hoppers answered Wilson's home run with two runs of their own. An RBI groundout from Esteban Gomez tied the game, and an RBI single by Kam Stewart gave the Diamond Hoppers a 2-1 lead.
Matt Rodgers threw the first five innings for the Diamond Hoppers and gave up two runs, but only one was earned. Relievers Jeffrey Gause and Torey Deshazier were perfect from the sixth inning on.
"Despite the weather, it was a pretty clean game," Diamond Hoppers Manager Paul Noce said. "Our pitchers compete and are strike-throwers, and they mix it up well enough to keep us in the ballgame."
The Beavers scored one run in the fourth when catcher Bobby San Martin was able to score on a fielding error and tie the game at two. However, Diamond Hoppers left fielder Chris Power hit a solo home run to give the Diamond Hoppers a 3-2 lead.
Power was 1-2 with two walks and an RBI. Diamond Hoppers designated hitter John Menken went 2-4.
Upcoming Games
Friday, May 26, Westside Woolly Mammoths vs. Utica Unicorns, 7:05 p.m. (Fireworks Friday/Memorial Day Weekend All-You-Can-Eat Buffet)
Saturday, May 27, Eastside Diamond Hoppers vs. Utica Unicorns, 7:05 p.m. (WCSX Classic Rock Saturday/Nurse Appreciation Night/Memorial Day Weekend All-You-Can-Eat Buffet)
Sunday, May 28, Westside Woolly Mammoths vs. Birmingham-Bloomfield Beavers, 1:35 p.m. (Helicopter Candy Drop for Kids/Memorial Day Weekend All-You-Can-Eat Buffet)
Monday, May 29, Utica Unicorns vs. Eastside Diamond Hoppers, 1:35 p.m. (USPBL Star Spangled Hat Giveaway/National Coney Island Memorial Day Ticket Offer)
Standings
1. Eastside Diamond Hoppers 6-2
2. Utica Unicorns 4-3
3. Birmingham-Bloomfield Beavers 3-5
4. Westside Woolly Mammoths 2-5