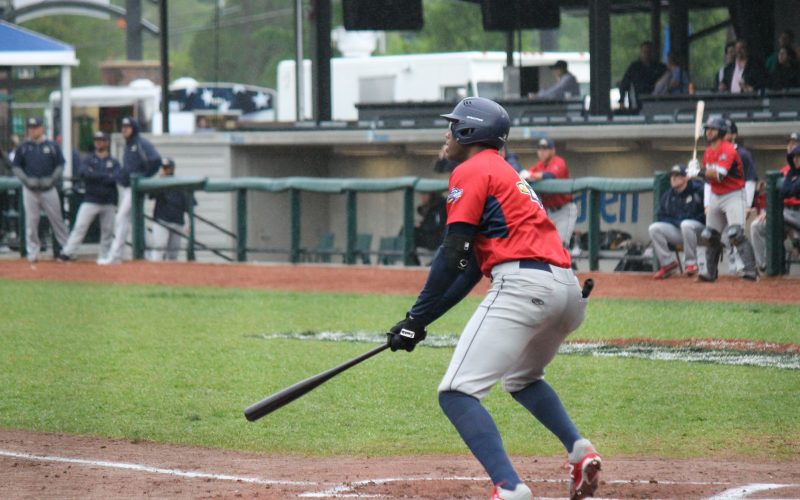 Beavers Defeat Mammoths 9-4
By Steve Marowski
Birmingham-Bloomfield Beavers 9 vs. Westside Woolly Mammoths 4
Utica — The Birmingham-Bloomfield Beavers scored two runs in the fourth inning and seven in the sixth inning to defeat the Westside Woolly Mammoths, 9-4.
Nick Buckner went 2-4 with two runs scored, and Nic Wilson was 2-3 with a walk, two RBI's and two runs scored in the Beavers victory.
"We got down early, but we didn't give up," Beavers Manager Chris Newell said. "These guys persevered and it was fun to watch."
The Mammoths went up 3-0 in the top of the third inning on an RBI single by Jeff Smith and a two-RBI double by Riley Palmer.
In the bottom of the fourth inning, the Beavers cut the deficit to 3-2 after Gerard Hernandez hit a two-RBI single. Hernandez finished the game 1-3 with three RBI's.
The Beavers exploded for seven runs in the sixth inning. Louis Johnson hit an RBI single to tie the game at three, and after an RBI single by DJ Martinez and a sacrifice fly by Hernandez, DonAndre Clark hit into a fielder's choice to make it 6-3.
Dan Kennon's RBI single made it 7-3, and Wilson's two-RBI single gave the Beavers a 9-3 lead.
"The last few games have been pretty tough because we've been up late and lost the lead, so for us to get down early and keep it going is a testament to our guys," Newell added.
The Beavers will be back in action on Friday, June 9, when they take on the Eastside Diamond Hoppers.
Upcoming Games
Friday, June 9, Birmingham-Bloomfield Beavers vs. Eastside Diamond Hoppers, 7:05 p.m. (Fireworks Friday/Meet the Hoppers)
Saturday, June 10, Westside Woolly Mammoths vs. Utica Unicorns, 7:05 p.m. (WCSX Classic Rock Saturday/First Responders Night/Boy Scouts Sleepover)
Sunday, June 11, Eastside Diamond Hoppers vs. Utica Unicorns, 1:35 p.m. (Princess Day/Princess Breakfast)