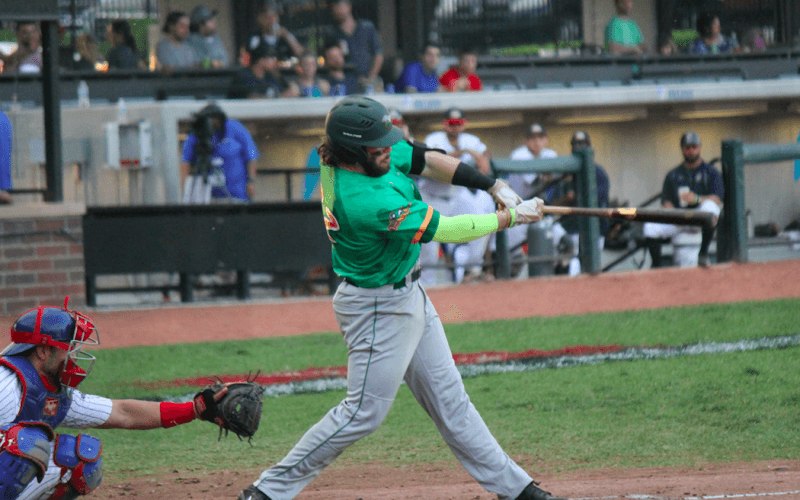 Diamond Hoppers Defeat Beavers 10-5
By Steve Marowski
Eastside Diamond Hoppers 10 vs. Birmingham-Bloomfield Beavers 5
Utica — The Eastside Diamond Hoppers scored four runs in the sixth inning and four runs in the seventh inning to lead them to a 10-5 victory over the Birmingham-Bloomfield Beavers.
Diamond Hoppers left fielder Chris Power was 4-5 with two RBI's and a run scored in the victory.
"I was just trying to take everything and shoot it into right-center field," Power said.
In the first inning, Nick Buckner and DJ Martinez hit back-to-back RBI singles to give the Beavers a 2-0 lead, and in the second inning, DonAndre Clark extended the lead to 3-0 with an RBI fielder's choice.
Buckner also had a solo home run in the third inning, and the Beavers would score once more in the fifth inning to take a 5-0 lead.
After scoring four runs in the sixth inning, The Diamond Hoppers took a 6-5 lead in the top of the seventh after Esteban Gomez hit a two-RBI triple down the right field line. Gomez went 1-4 with a walk, two RBI's and two runs scored.
"I've been trying to stay through the ball a little more, and I'm just glad I got the barrel on it," said Gomez.
Jordan Pannell came in relief for the Diamond Hoppers and was outstanding in his appearance. He didn't allow a walk or a hit in 3.1 innings pitched, and he also tallied two strikeouts.
"We persevered and our bats came alive, and Jordan Pannell and Carl Brice did a tremendous job," Diamond Hoppers Manager Paul Noce said.
Diamond Hoppers second baseman Kam Stewart was 2-4 with a home run, an RBI and three runs scored, and designated hitter Mark Krueger was 1-5 with two RBI's.
Upcoming Games
Saturday, June 3, Utica Unicorns vs. Westside Woolly Mammoths, 7:05 p.m. (World Famous ZOOperstars!/WCSX Classic Rock Saturday)
Sunday, June 4, Utica Unicorns vs. Eastside Diamond Hoppers, 1:35 p.m. (World Famous ZOOperstars!)
Standings
1. Utica Unicorns 6-4
2. Eastside Diamond Hoppers 7-5
3. Westside Woolly Mammoths 5-5
4. Birmingham-Bloomfield Beavers 4-8