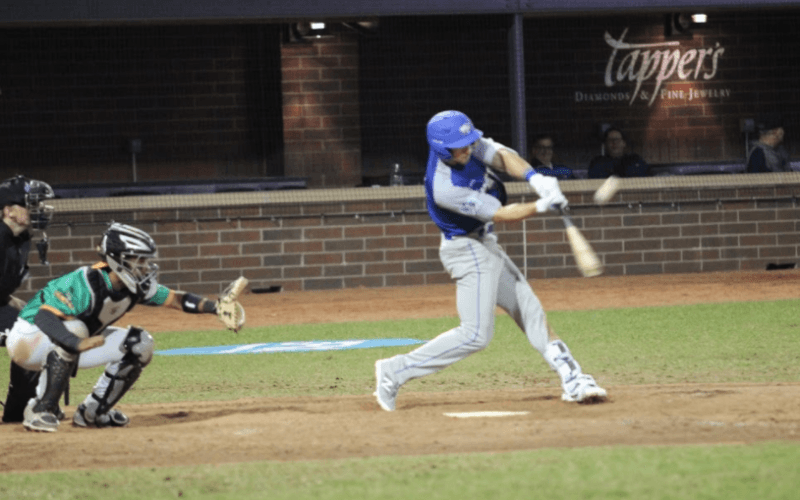 Diamond Hoppers Win Season Opener 6-3
By Steve Marowski
Eastside Diamond Hoppers 6 vs. Westside Woolly Mammoths 3
The Eastside Diamond Hoppers scored six runs in the first four innings, and that would be all they would need in their 6-3 victory over the Westside Woolly Mammoths.
Every Diamond Hoppers starter reached base safely and seven different players had hits in the victory. Diamond Hoppers center fielder Joe Moroney was 2-4 with a walk, a stolen base and two runs scored.
"It was the first game of the season and you can't really hold anything back," said Moroney. "I was just trying to be aggressive at the plate and I feel like we were pretty aggressive as a team."
In the first inning, Moroney doubled to the left-center gap. After Chris Power reached on an error, Casey Chenoweth and Esteban Gomez each singled home a run to make the score 2-0 in favor of the Diamond Hoppers.
After a single from Ricky Castro and a sacrifice bunt from Cyle Figueroa in the second inning, Power reached on an error and stole second. Castro was able to score on Power's stolen base which increased the Diamond Hoppers lead to 3-0.
The Mammoths got their first run of the game in the third inning. RJ Fuhr drew a two-out walk and he scored on back-to-back singles by Alex Abbott and Jeff Smith.
Diamond Hoppers right fielder John Menken was hit by a pitch to lead off the bottom of the third and after a ground rule double by Chenoweth, Gomez and Brian Bilello hit RBI groundouts to increase their lead to 5-1. Kam Stewart hit an RBI single in the fourth to score the Diamond Hoppers sixth run of the night.
The Mammoths were able to score two in the top of the ninth on a double by Tyler McVicar and a sacrifice fly by Kent Blackstone, but it wasn't enough to overcome the five-run deficit.
"We just didn't have great at-bats for the most part," Mammoths Manager Shane McCatty said. "When we went to put something together, nothing came through."
Diamond Hoppers starting pitcher Conner Root had a strong outing on the mound. Through five innings, Root only allowed one run on two hits and struck out eight.
"We had some timely hitting," said Diamond Hoppers Manager Paul Noce. "We were able to make some good outs that scored some runs, and our pitchers did a great job."
The Diamond Hoppers will be back in action on Sunday, May 14, when they take on the Utica Unicorns.
Upcoming Games
Sunday, May 14, Utica Unicorns vs. Eastside Diamond Hoppers, 1:35 p.m. (Mother's Day)
Thursday, May 18, Eastside Diamond Hoppers vs. Birmingham-Bloomfield Beavers, 7:05 p.m. (Irish Heritage Night/CMU Night/Thirsty Thursday)
Friday, May 19, Utica Unicorns vs. Westside Woolly Mammoths, 7:05 p.m. (Fireworks Friday/Catholic School Alumni Night)