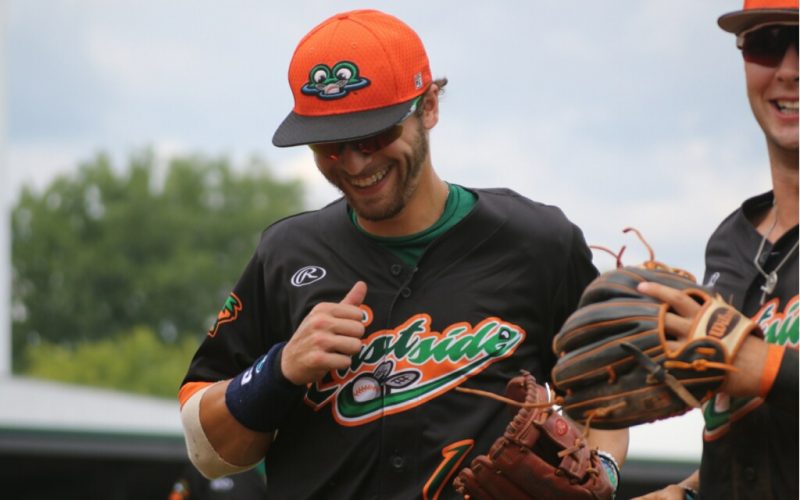 Hoppers Defeat Unicorns, 4-3
UTICA, Mich. – Sebastian Diaz went 2-for-4 with one RBI to lead the Eastside Diamond Hoppers (19-18) to a 4-3 victory over the Utica Unicorns (19-20), Sunday afternoon at Jimmy John's Field.
Trey Bridis went 1-for-3 and scored two runs for the Hoppers. Kody Ruedisili, Gunnar Buhner and Brian Davis also had one RBI. RHP Chauncey Nunez earned his first win of the season.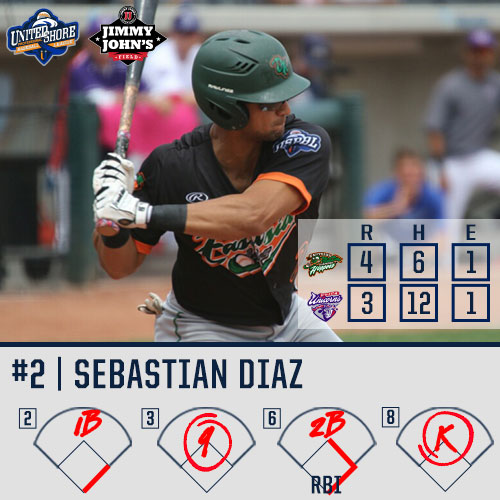 Carter Grote hit his fourth home run of the season, going 2-for-5 for the Unicorns. Kyle Bonicki went 3-for-4 and had one RBI.
Metro Detroit Chevy Dealers Fan of the Game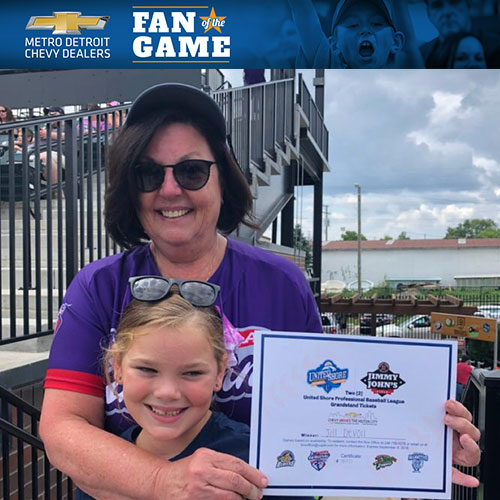 Jill Devoll
UPCOMING GAMES/EVENTS
Wednesday, August 15
Birmingham Bloomfield Beavers (20-18) vs. Eastside Diamond Hoppers (19-18), 7:05 p.m. first pitch (Gates open at 6 p.m.)
Buy Tickets
Promotions
Italian-American Heritage Night featuring Frank Sinatra impersonator Gary Sacco – Read More
Thursday, August 16
Eastside Diamond Hoppers (19-18) vs. Utica Unicorns (19-20), 7:05 p.m. first pitch (Gates open at 6 p.m.)
Buy Tickets
Promotions
Thirsty Thursday presented by Dave & Buster's, Beatlemania, Faith Night at the Ballpark sponsored by Thrivent Financial – Read More
Friday, August 17
Utica Unicorns (19-20) vs. Westside Woolly Mammoths (18-20), 7:05 p.m. first pitch (Gates open at 6 p.m.)
Buy Tickets
Promotions
Fireworks Friday powered by XFINITY / Prostate Cancer Awareness presented by Karmanos Cancer Institute – Read More
Saturday, August 18
Westside Woolly Mammoths (18-20) vs. Birmingham Bloomfield Beavers (20-18), 7:05 p.m. first pitch (Gates open at 6 p.m.)
Buy Tickets
Promotions
First Responders Night presented by Provision Financial, Girl Scouts Campout – Read More
Sunday, August 19
Utica Unicorns (19-20) vs. Westside Woolly Mammoths (18-20), 1:05 p.m. first pitch (Gates open at Noon)
Buy Tickets
Promotions
Mingle with Princesses ad Pirates and get your photo taken presented by Fairytale Entertainment – Read More
#YourSummerDestination