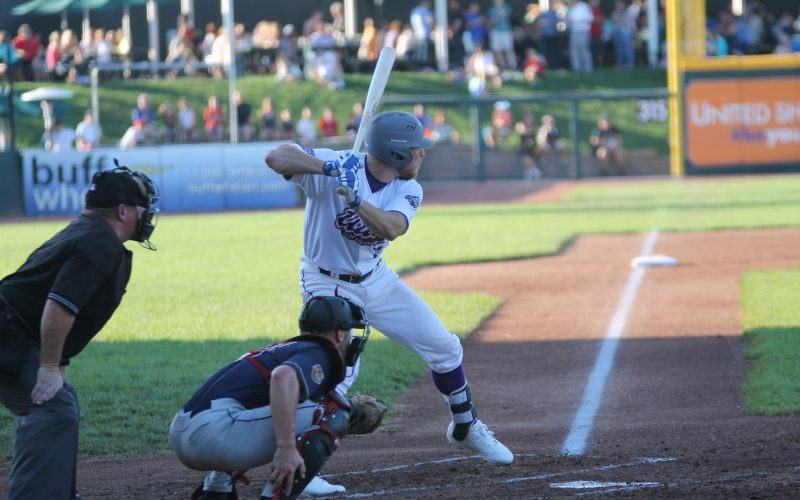 Unicorns Defeat Diamond Hoppers 10-2
By Steve Marowski
Utica Unicorns 10 vs. Eastside Diamond Hoppers 2
Utica — Even though the Utica Unicorns only had five hits, they were able to work good at-bats and score 10 runs in their 10-2 victory over the Eastside Diamond Hoppers.
Center fielder Tony Rosselli was 1-4 with a grand slam, a walk and four RBI's.
"I was on time for every pitch," Rosselli said. "I was sitting fastball and he hung it, so I was able to capitalize on that particular pitch."
Eastside opened the scoring in the bottom of the third inning with an RBI single from Kam Stewart.
Rosselli's grand slam in the top of the fourth put the Unicorns ahead, 4-1.
The Diamond Hoppers pulled within two in the bottom half of the fourth inning on an RBI double by Cyle Figueroa, but the Unicorns got two more runs in the top of the fifth inning to go ahead, 6-2.
An RBI single from Brett Balkan made it 7-2 and a two-RBI double from Justin Erlandson put the Unicorns up 9-2.
Utica scored once more in the ninth on a fielder's choice.
Unicorns starting pitcher Donny Murray had a strong performance. In 5.2 innings, Murray scattered seven hits, gave up two runs and had six strikeouts.
Diamond Hoppers third baseman Casey Chenoweth was 3-4 with a run scored in the loss.
"The grand slam was huge," Unicorns Manager Jim Essian said. "They gave us some base runners, but we had some timely hits and it was a good win for us."
Upcoming Games
Sunday, August 13, Birmingham-Bloomfield Beavers vs. Westside Woolly Mammoths, 1:35 p.m. (Spongebob)
Thursday, August 17, Birmingham-Bloomfield Beavers vs. Westside Woolly Mammoths, 7:05 p.m. (Woolly Bobblehead Giveaway)
Friday, August 18, Eastside Diamond Hoppers vs. Utica Unicorns, 7:05 p.m. (Fireworks Friday)
Saturday, August 19, Westside Woolly Mammoths vs. Birmingham-Bloomfield Beavers, 1:00 p.m and 7:05 p.m. (Day-Night Doubleheader/Italian Heritage Night)
Sunday, August 20, Utica Unicorns vs. Eastside Diamond Hoppers, 1:35 p.m. (MJC Stars of the USPBL Poster Giveaway)
Standings
1. Birmingham-Bloomfield Beavers 21-19
2. Eastside Diamond Hoppers 20-20
3. Utica Unicorns 20-22
4. Westside Woolly Mammoths 19-19