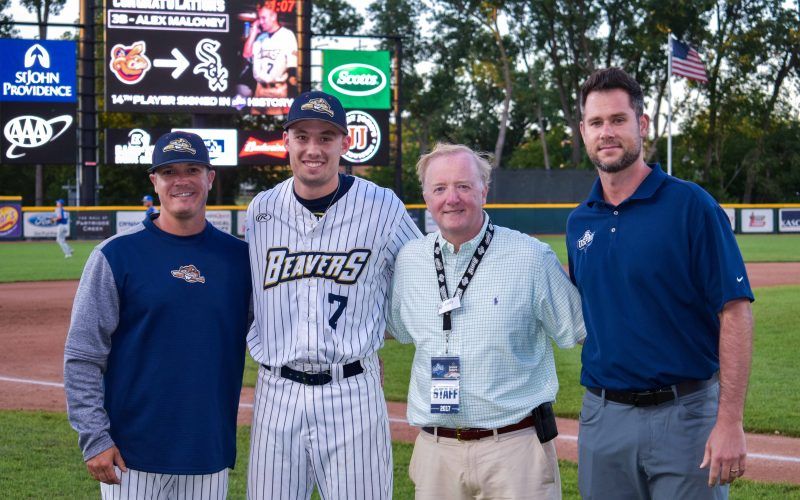 Alex Maloney Receives MLB Opportunity
By Joey Paciero
Westside Woolly Mammoths 9 vs. Birmingham-Bloomfield Beavers 7
Utica- On a beautiful Saturday night at Jimmy John's Field, USPBL fans were treated to a tremendous baseball game between the Birmingham-Bloomfield Beavers and the Westside Woolly Mammoths. The game featured many twists and turns, but the main twist occurred during the top of the fifth inning when the Birmingham-Bloomfield Beavers third baseman Alex Maloney was pulled from the game because he had been officially signed by the Chicago White Sox organization.
"Skip came over and I thought he was taking me out the game honestly, but he said 'hey you just got picked up by the Chicago White Sox,' and it was just one of those moments that you really cherish," said Maloney.
"I'm very thankful for the opportunity that the USPBL gave me and that the White Sox are giving me now," Maloney added. "Everything you worked for as a kid just finally comes into one thing here and you finally get the opportunity that you waited your whole life for."
"We couldn't be happier for Alex Maloney and the other 13 USPBL players who have been signed by Major League organizations," said Andy Appleby, Commissioner and Founder of the USPBL. "Our goal has always been to make every player better and see them succeed at the next level and beyond."
As for the game, the Beavers would score in the bottom of the first when right fielder Mike Mioduszewski hit an RBI single to bring in DonAndre Clark and take a 1-0 lead.
The Mammoths would respond in the top of the third inning with an RBI double from Kent Blackstone.
The score would remain tied until the bottom of the fifth inning when the Beavers took a 2-1 lead on Nic Wilson's RBI single.
During the top of the sixth inning, Mammoths right fielder Alex Abbott would hit a deep three-run home run to right field and give the Mammoths a 4-2 lead. Despite the big home run, the Beavers would answer with a five-run sixth inning to regain a 7-4 lead.
The Mammoths would retaliate in the top of the seventh with Blackstone's three-run home run to tie the game at seven. Later in the inning, Mammoths shortstop Jeff Smith would score on a wild pitch to give the Mammoths an 8-7 lead.
The Mammoths would add an insurance run on an RBI ground rule double by Abbott in the top of the ninth.
Blackstone would finish the night 3-3 with a home run, a double, two walks and four RBI's.
Upcoming Games
Sunday, June 25, Eastside Diamond Hoppers vs. Utica Unicorns, 1:35 p.m. (Power Rangers)
Thursday, June 29, Eastside Diamond Hoppers vs. Birmingham-Bloomfield Beavers, 7:05 p.m. (Zombie Night/Thirsty Thursday)
Friday, June 30, Utica Unicorns vs. Eastside Diamond Hoppers, 7:05 p.m. (Fireworks Friday presented by Metro PCS/Social Media Night)
Saturday, July 1, Utica Unicorns vs. Westside Woolly Mammoths, 7:05 p.m. (WCSX Classic Rock Saturday)
Sunday, July 2, Birmingham-Bloomfield Beavers vs. Westside Woolly Mammoths, 1:35 p.m. (Minions and Kids Candy Hunt)
Monday, July 3, Birmingham-Bloomfield Beavers vs. Utica Unicorns, 1:35 p.m. (Independence Celebration/Star Spangled T-Shirt Giveaway/Hospitality Worker Appreciation)
Standings
1. Eastside Diamond Hoppers 11-7
2. Utica Unicorns 11-8
3. Westside Woolly Mammoths 10-10
4. Birmingham-Bloomfield Beavers 6-13