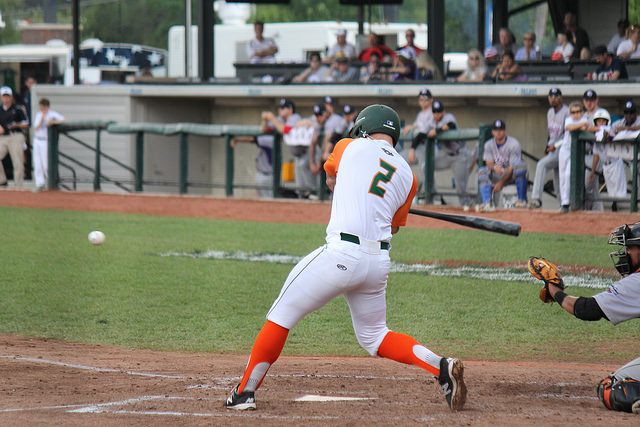 Seven-Run Third Helps Diamond Hoppers to 9-8 Win
By Steve Marowski
Eastside Diamond Hoppers 9 vs. Utica Unicorns 8
Utica — It was a good day for hitters at Jimmy John's Field between the Utica Unicorns and Eastside Diamond Hoppers, but the Diamond Hoppers were able to come out on top with a 9-8 victory.
Diamond Hoppers second baseman Kam Stewart went 2-3 with a home run, two walks, three RBI's and a run scored. Left fielder Chris Power was 2-2 with two walks, an RBI and two runs scored as well.
"I saw that he threw me a first-pitch change-up, and I had a feeling he might be coming back with it," said Stewart when asked about his home run at-bat. "He did, and I was able to put a good swing on it."
In the top of the first inning, the Unicorns struck first with a three-run home run off the bat of Chris Cruz. Nicco Lollio extended the lead in the top of the second inning with a solo home run of his own to make it a 4-0 ballgame.
In the bottom half of the second inning, Cyle Figueroa hit a sacrifice fly to cut the deficit to 4-1.
The Diamond Hoppers scored seven runs in the bottom of the third, and five different Diamond Hoppers players had RBI's in the inning. Stewart led off the inning with a solo home run, and he had the last two RBI's in the inning with a double.
John Menken hit an RBI single in the bottom of the fifth inning to score the ninth run of the game for the Diamond Hoppers.
"We were able to out-score and out-hit them, and with the wind blowing out, we knew it would be a high-scoring game," Diamond Hoppers Manager Paul Noce said.
The Unicorns were able to get one back in the top of the fourth with a solo home run from Brandon Larkin-Guilfoyle. In the top of the sixth inning, the Unicorns plated three more runs, but strong relief pitching from the Diamond Hoppers held off the Unicorns bats.
Torey Deshazier threw the final two innings for the Diamond Hoppers and didn't allow a baserunner to pick up the six-out save.
Upcoming Games
Thursday, June 8, Westside Woolly Mammoths vs. Birmingham-Bloomfield Beavers, 7:05 p.m. (Greek Heritage and Eastern Michigan Night/Thirsty Thursday)
Friday, June 9, Birmingham-Bloomfield Beavers vs. Eastside Diamond Hoppers, 7:05 p.m. (Fireworks Friday/Meet the Hoppers)
Saturday, June 10, Westside Woolly Mammoths vs. Utica Unicorns, 7:05 p.m. (WCSX Classic Rock Saturday/First Responders Night/Boy Scouts Sleepover)
Sunday, June 11, Eastside Diamond Hoppers vs. Utica Unicorns, 1:35 p.m. (Princess Day/Princess Breakfast)
Standings
1. Eastside Diamond Hoppers 8-5
2. Utica Unicorns 7-5
3. Westside Woolly Mammoths 5-6
4. Birmingham-Bloomfield Beavers 4-8