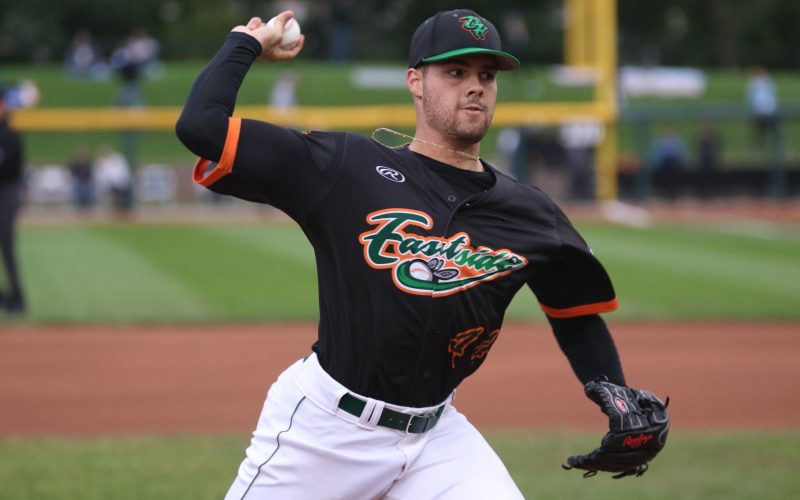 Hoppers Advance to Championship with 2-0 Win over Mammoths
UTICA, Mich. – Right-handed pitcher Tanner Kiest struck out 14 and allowed just one hit in 7.0 scoreless innings, while John Menken went 2-for-3 to lead the second-seeded Eastside Diamond Hoppers (25-23) past the fourth-seeded Westside Woolly Mammoths (22-28), 2-0, in the United Shore Professional Baseball League Playoffs on Saturday in front of another sell out crowd at Jimmy John's Field. The Diamond Hoppers' pitching staff held the Woolly Mammoths to just one hit in the game.
The Hoppers will make their first championship game appearance and take on the defending champion and top-seeded Birmingham Bloomfield Beavers (26-21) at 1:05 p.m. on Sunday.
The bullpen of Donald Wanner and Keaton Aldridge held the Mammoths scoreless over the final 2.0 innings, striking out two. Wanner picked up the hold in the eighth inning, while Aldridge earned his league-best seventh save.
Kody Ruedisili opened up the scoring by scoring from second base on a wild pitch to give the Hoppers a 1-0 lead in the bottom of the third inning. The final run came in the same inning on a sacrifice fly by Cameron Coons who finished the game 2-for-3 with one RBI.
LHP Jake Angus pitched well for the Mammoths, throwing 6.1 innings, scattering seven hits, allowing two runs and fanned five.
Sunday, September 9 — Championship
No. 2 seed Eastside Diamond Hoppers (25-23) vs. No. 1 seed Birmingham Bloomfield Beavers (26-21), 1:05 p.m. (Gates open at Noon)
Buy Tickets
Promotions: Championship game presented by OUR Credit Union, Scott's Rally Towels giveaway, Collector's Stamp Book, Player Baseball Cards – Read More
#YourSummerDestination