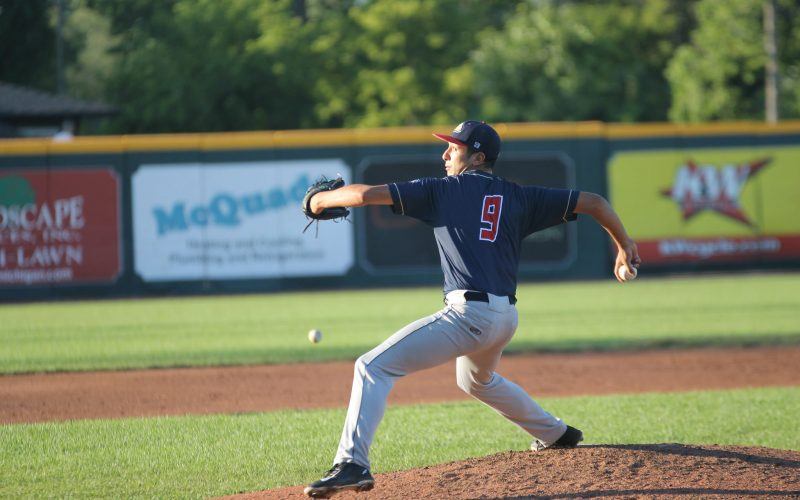 Wynne Pitches Beavers to 4-2 Victory
By Steve Marowski
Birmingham-Bloomfield Beavers 4 vs. Utica Unicorns 2
Utica — Birmingham-Bloomfield Beavers starter Randy Wynne threw eight innings and gave up just two runs to lead the Beavers to a 4-2 victory over the Utica Unicorns.
Wynne scattered seven hits, didn't walk a batter and had seven strikeouts.
"We've got a great demeanor and a great attitude in our clubhouse right now," Beavers Manager Chris Newell said. "I'm not surprised with how we came out today."
The Beavers opened the scoring in the top of the first with an RBI double from Nick Buckner.
Unicorns right fielder Chris Cruz led off the bottom of the second inning with a triple to right-center field. Nicco Lollio hit an RBI single to score Cruz and tie the game at one.
In the top of the fifth inning, Nic Wilson hit a two-run home run to right field to give the Beavers a 3-1 lead.
The Beavers tacked on another run in the top of the sixth on a sacrifice fly by Dan Kennon.
In the bottom of the eighth, the Unicorns pulled within two on an RBI double by Brett Balkan.
Kevin Marnon came out of the bullpen for the Beavers and got the save in the ninth. After giving up a leadoff single, Marnon struck out the next three batters to secure the victory.
With the win, the Beavers have now won seven games in a row and are 15-16 this season.
"We lost a lot of tough games early in the season, but I just write their names in the lineup and let them play," Newell added.
Upcoming Games
Friday, July 21, Eastside Diamond Hoppers vs. Westside Woolly Mammoths, 7:05 p.m. (Fireworks Friday presented by XFINITY)
Saturday, July 22, Utica Unicorns vs. Eastside Diamond Hoppers, 7:05 p.m. (Rockin 4 Hunger)
Sunday, July 23, Birmingham-Bloomfield Beavers vs. Westside Woolly Mammoths, 1:35 p.m. (Lego Day)
Standings
1. Eastside Diamond Hoppers 16-13
2. Utica Unicorns 16-16
3. Birmingham-Bloomfield Beavers 15-16
4. Westside Woolly Mammoths 13-15