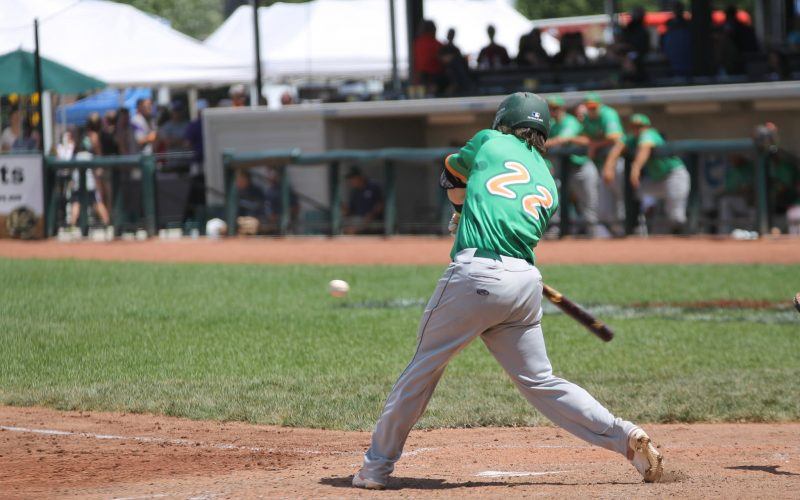 Hoppers Take Down Mammoths 7-2
By Steve Marowski
Eastside Diamond Hoppers 7 vs. Westside Woolly Mammoths 2
Utica — Chris Power, Esteban Gomez and Kam Stewart were each 3-5 in the Eastside Diamond Hoppers 7-2 victory over the Westside Woolly Mammoths.
Power and Gomez each had two RBI's and Stewart scored three runs in the victory.
"We swung the bats and hit the ball well today," Diamond Hoppers Manager Paul Noce said. "Our hitters made some good adjustments at the plate."
In the top of the third, the Diamond Hoppers strung four hits together which included RBI singles by Stewart and John Menken, and a two-RBI single from Power put the Diamond Hoppers up 4-0.
In the fifth inning, Gomez singled to right field to make it a 5-0 ballgame. An RBI fielder's choice from Casey Chenoweth made it 6-0.
The Mammoths scored once in the seventh on a sacrifice fly by Kent Blackstone. Their second run came in the bottom of the eighth on an RBI double by Hagen Wilkey.
The Diamond Hoppers final run came on an RBI single by Gomez in the top of the ninth.
Matt Rodgers came out of the bullpen for the Diamond Hoppers and threw 4.1 innings, gave up just two runs and tallied four strikeouts.
"[Matt] came in and did a great job," Noce added. "We used four guys in the All-Star Game last night, but Matt came in and did a tremendous job."
Upcoming Games
Thursday, July 13, Birmingham-Bloomfield Beavers vs. Eastside Diamond Hoppers, 7:05 p.m. (Teen Angels/Michigan State Night/Thirsty Thursday)
Friday, July 14, Westside Woolly Mammoths vs. Utica Unicorns, 7:05 p.m. (Fireworks Friday presented by Metro PCS)
Saturday, July 15, Eastside Diamond Hoppers vs. Utica Unicorns, 7:05 p.m. (WCSX Classic Rock Saturday/Girl Scouts Sleepover)
Sunday, July 16, Westside Woolly Mammoths vs. Birmingham-Bloomfield Beavers, 1:35 p.m. (Buzz Bobblehead Giveaway)
Standings
1. Eastside Diamond Hoppers 14-11
2.Utica Unicorns 13-12
3. Westside Woolly Mammoths 12-13
4. Birmingham-Bloomfield Beavers 11-14