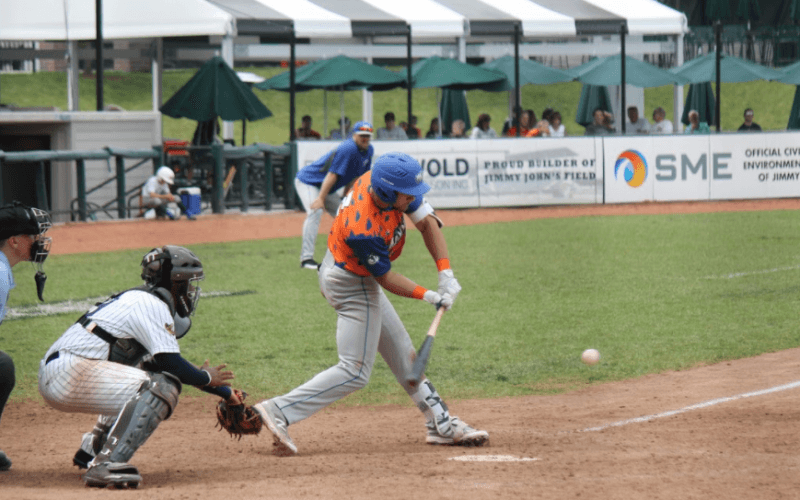 Mammoths Defeat Beavers 5-3
By Steve Marowski
Westside Woolly Mammoths 5 vs. Birmingham-Bloomfield Beavers 3
Utica — The Westside Woolly Mammoths and the Birmingham-Bloomfield Beavers squared off on Sunday, May 28, and a two-run ninth inning helped the Mammoths defeat the Beavers, 5-3.
"We had some good at-bats, but we also had some that we really thought we gave away," Mammoths Manager Shane McCatty said. "It was a very nice starting effort by David Ernst and the bullpen did a pretty good job."
Ernst scattered five hits over five innings pitched. He gave up one run and struck out three.
The Mammoths opened the scoring in the fifth inning on back-to-back singles by Tyler McVicar and Nick Crouse. Both came around to score to give the Mammoths a 2-0 lead, and Jeff Smith hit a sacrifice fly to increase the lead to 3-0.
McVicar went 2-4 with a run scored, and Crouse was 2-3 with a walk and two runs scored. Smith went 1-2 with a walk and two RBI's.
The Beavers answered back with one run of their own in the bottom of the fifth inning after DonAndre Clark scored on a fielder's choice by Nick Buckner. Clark finished the day 4-5 with an RBI and a run scored.
The Beavers scored once in the seventh inning and once in the eighth inning to tie the game at three, but a two-run ninth inning put the Mammoths ahead for good.
"We did a better job of getting guys in from scoring position," McCatty added.
Upcoming Games
Monday, May 29, Utica Unicorns vs. Eastside Diamond Hoppers, 1:35 p.m. (USPBL Star Spangled Hat Giveaway/National Coney Island Memorial Day Ticket Offer)
Thursday, June 1, Birmingham-Bloomfield Beavers vs. Westside Woolly Mammoths, 7:05 p.m. (Jimmy Buffett Night/Detroit Mercy Night/Thirsty Thursday)
Friday, June 2, Eastside Diamond Hoppers vs. Birmingham-Bloomfield Beavers, 7:05 p.m. (Fireworks Friday/Meet the Beavers)
Standings
1. Eastside Diamond Hoppers 6-3
2. Utica Unicorns 5-4
3. Westside Woolly Mammoths 4-5
4. Birmingham-Bloomfield Beavers 3-6