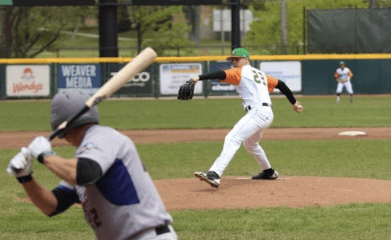 Diamond Hoppers Defeat Unicorns 6-3
By Steve Marowski
Eastside Diamond Hoppers 6 vs. Utica Unicorns 3
Eastside Diamond Hoppers third baseman Casey Chenoweth went 2-3 with a walk, a home run and two RBI's, and left-handed reliever Devin Alexander threw four scoreless innings to help the Eastside Diamond Hoppers defeat the Utica Unicorns, 6-3.
"Our hitting coach and manager prepared us very well for today," said Chenoweth.
The Diamond Hoppers scored their first two runs in the bottom of the second inning, but Unicorns center fielder Brandon Rawe hit a two-run home run to right field to tie the game in the top of the third inning. Rawe went 2-3 on the day.
In the bottom of the fourth inning, Chenoweth hit a monster home run to left field to give the Diamond Hoppers a 4-2 lead.
"I was just trying to work the middle and catch as many barrels as I could," Chenoweth added.
Tanner Kiest started on the mound for the Diamond Hoppers and threw four innings, allowed two runs and struck out five. Alexander followed with four shutout innings and three strikeouts. He also picked up the win in his 50-pitch outing.
"It was the first outing of the season, and it felt good to go out there and perform well," said Alexander.
The Diamond Hoppers scored one run in the fifth inning and one run in the eighth inning to make it a 6-2 game. The Unicorns scored their third and final run on a single by Nick Todero in the top of the ninth.
The Diamond Hoppers are 2-0 this season and will be back in action on Thursday, May 18, when they face the Birmingham-Bloomfield Beavers.
Upcoming Games
Thursday, May 18, Eastside Diamond Hoppers vs. Birmingham-Bloomfield Beavers, 7:05 p.m. (Irish Heritage Night/CMU Night/Thirsty Thursday)
Friday, May 19, Utica Unicorns vs. Westside Woolly Mammoths, 7:05 p.m. (Fireworks Friday/Catholic School Alumni Night)
Saturday, May 20, Utica Unicorns vs. Eastside Diamond Hoppers, 7:05 p.m. (WCSX Classic Rock Saturday/Teacher Appreciation Night)
Sunday, May 21, Birmingham-Bloomfield Beavers vs. Westside Woolly Mammoths, 1:35 p.m. (Teenage Mutant Ninja Turtles)