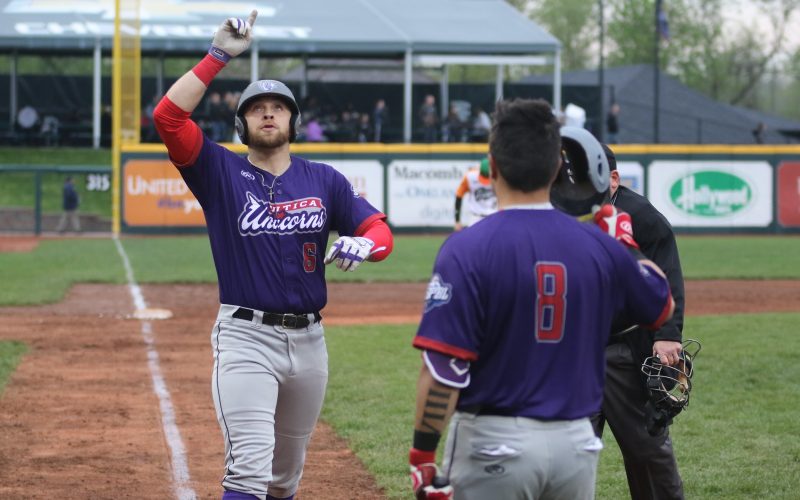 Unicorns Power Past Diamond Hoppers, 13-3
UTICA, Mich. – Dan Ward, Jimmy Latona and Nicco Lollio each homered, while right-handed pitcher Cody Brown (1-0) threw four shutout innings as the Utica Unicorns (1-0) used their strong bats and arms to down the Eastside Diamond Hoppers (0-1), 13-3, on Saturday at Jimmy John's Field.
The Unicorns used two four-run innings, one in the third and the other in the sixth, to chase Diamond Hoppers' starter Dillon Alexander (0-1) from the game. Alexander threw 3.0 innings, giving up six hits and seven runs. The Unicorns' Brown scattered four hits while striking out three in the game.
After Gabe Gunter got the Diamond Hoppers on the board in the fifth with a RBI single, the Unicorns responded with a two-run triple off the bat of Chris Allen and a long home run by Lollio.
The Diamond Hoppers' Chris Mangus connected on his first home run of the season in the ninth inning to close out the scoring in the game.
UPCOMING GAMES
Sunday May 13
Diamond Hoppers (0-1) vs. Beavers (0-0), 1:05 pm first pitch, Gates open at Noon — 11 a.m. with a Mother's Day Brunch ticket.
PROMOTION
Celebrate Mother's Day at Jimmy John's Field. The first 1,000 Mothers will receive flowers, courtesy of Thrifty Florist, and one lucky Mom will win a $100 gift card from Thrifty Florist. Enjoy a brunch before the game for an additional $15.
#YourSummerDestination