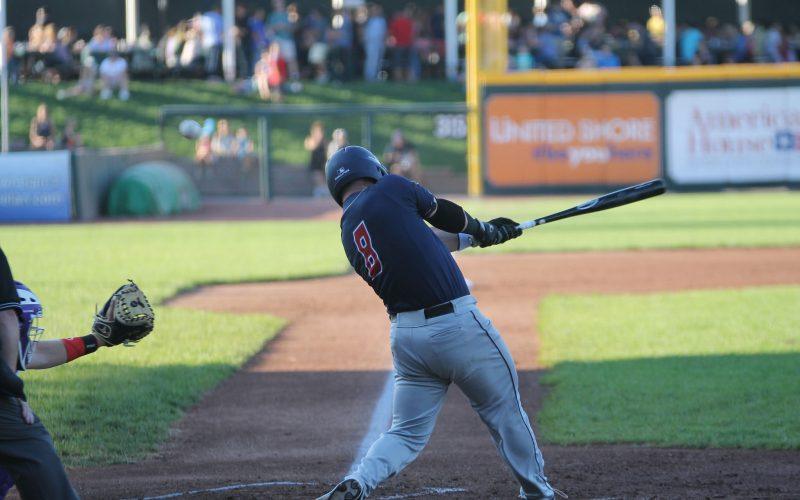 Beavers Bats Come Alive in 11-6 Victory
By Steve Marowski
Birmingham-Bloomfield Beavers 11 vs. Westside Woolly Mammoths 6
Utica — Birmingham-Bloomfield Beavers left fielder Rob Paller had four of the Beavers 18 hits and helped them earn a 11-6 victory over the Westside Woolly Mammoths.
Paller was 4-5 with two home runs, three runs scored and four RBI's in the victory.
"I'm always trying to compete one pitch at a time and use the big part of the park," Paller said.
The Beavers got on the board early in the top of the first on an RBI double from Paller. Christian Helsel followed with an RBI groundout to put the Beavers up 2-0.
Hunter Wood followed with an RBI single to give the Beavers a 3-0 lead.
On the first pitch of the top of the third inning, Paller homered to right field to extend the Beavers lead to 4-0.
The Mammoths scored once in the bottom of the third after Alex Abbott scored on a fielding error. However, the Beavers scored twice in the top of the fourth on RBI doubles by Brandon Rawe and Helsel.
Westside came back with a run in the bottom half of the fourth on an RBI double by Kent Blackstone.
In the top of the sixth inning, the Beavers plated three more runs on an RBI single from Rawe and a two-run homer from Paller.
An RBI single from Dan Kennon in the top of the eighth made it 10-2 Beavers, but Mammoths first baseman Ethan Wiskur hit a three-run homer in the bottom of the eighth to make it 10-5.
The Mammoths scored one more run in the bottom of the eighth and the Beavers plated one run in the top of the ninth.
"Our guys have been working hard and paying attention to detail lately," Beavers Manager Chris Newell said. "It shows with all of those hits, but we're always trying to get better."
Upcoming Games
Thursday, August 17, Birmingham-Bloomfield Beavers vs. Westside Woolly Mammoths, 7:05 p.m. (Woolly Bobblehead Giveaway)
Friday, August 18, Eastside Diamond Hoppers vs. Utica Unicorns, 7:05 p.m. (Fireworks Friday)
Saturday, August 19, Westside Woolly Mammoths vs. Birmingham-Bloomfield Beavers, 1:00 p.m and 7:05 p.m. (Day-Night Doubleheader/Italian Heritage Night)
Sunday, August 20, Utica Unicorns vs. Eastside Diamond Hoppers, 1:35 p.m. (MJC Stars of the USPBL Poster Giveaway)
Standings
1. Birmingham-Bloomfield Beavers 22-19
2. Eastside Diamond Hoppers 20-20
3. Utica Unicorns 20-22
4. Westside Woolly Mammoths 19-20