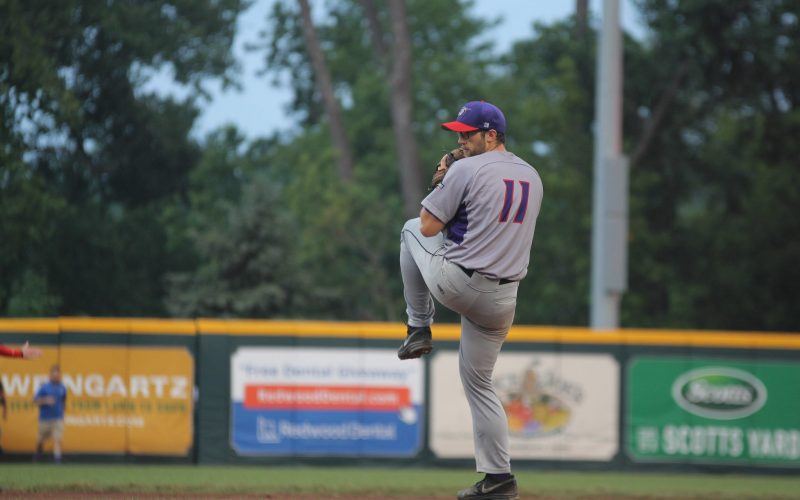 Dobnak Throws Complete Game in Unicorns 9-2 Win
By Steve Marowski
Utica Unicorns 9 vs. Eastside Diamond Hoppers 2
Utica — The Utica Unicorns used a six-run eighth inning and a great pitching performance from Randy Dobnak to pick up an 8-2 victory over the Eastside Diamond Hoppers.
Dobnak threw a complete game, gave up just two runs on four hits, didn't walk a batter and had seven strikeouts.
"I knew I felt good in the first inning, and I was feeling just as good in the eighth and ninth innings," Dobnak said.
The Unicorns took an early 2-0 lead in the top of the first inning on a two-RBI single by Connor Reynolds.
The Diamond Hoppers got one back in the bottom of the third on an RBI groundout by Ricky Castro, and John Menken tied the game at two with a solo home run to left field in the bottom of the seventh.
Unicorns right fielder Chris Cruz broke the 2-2 tie with an RBI double in the top of the eighth to make it 3-2. An RBI single from Reynolds made it 4-2, and Tyler McVicar's single scored two more runs to increase the Unicorns lead to 6-2.
An RBI walk from Dylan Sprague made it 7-2, and a run scored on a fielder's choice from Brett Balkan.
The Unicorns scored once more in the top of the ninth on an RBI single by McVicar.
"Anytime you can put runs on the board in the first inning, it makes it a little easier as the game goes on," Assistant Coach Cedric Landrum said. "Randy showed up tonight and did a great job keeping hitters off-balance."
McVicar was 2-3 with three RBI's and Reynolds was 2-4 with a walk and three RBI's in the Unicorns victory.
Upcoming Games
Sunday, July 23, Birmingham-Bloomfield Beavers vs. Westside Woolly Mammoths, 1:35 p.m. (Lego Day)
Thursday, July 27, Westside Woolly Mammoths vs. Birmingham-Bloomfield Beavers, 7:05 p.m. (Human Cannon Ball/Parade Company Big Heads Night/Thirsty Thursday)
Friday, July 28, Birmingham-Bloomfield Beavers vs. Eastside Diamond Hoppers, 7:05 p.m. (Fireworks Friday presented by XFINITY/Turn the Park Pink)
Saturday, July 29, Westside Woolly Mammoths vs. Utica Unicorns, 7:05 p.m. (Jake the Diamond Dog presented by Dogtopia/WYCD Country Music Night)
Sunday, July 30, Eastside Diamond Hoppers vs. Utica Unicorns, 1:35 p.m. (Fan Home Run Derby/Harry Potter's Birthday/Jake the Diamond Dog presented by Dogtopia)
Standings
1. Eastside Diamond Hoppers 17-14
2. Utica Unicorns 17-16
3. Birmingham-Bloomfield Beavers 15-16
4. Westside Woolly Mammoths 13-16