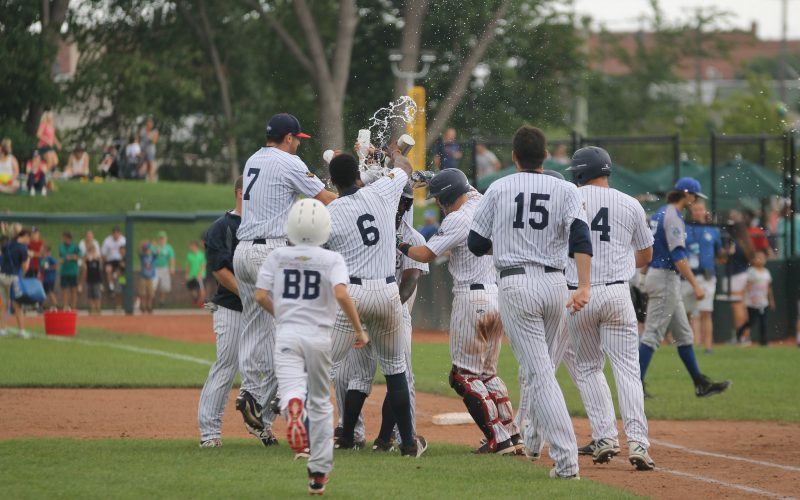 Kennon Walks Beavers Off in 1-0 Pitchers' Duel
By Steve Marowski
Birmingham-Bloomfield Beavers 1 vs. Westside Woolly Mammoths 0
Utica — In one of the best baseball games played this season, the Birmingham-Bloomfield Beavers picked up a 1-0 win with a walk-off walk in the bottom of the ninth inning from Dan Kennon.
Mammoths starting pitcher Jared Gaynor had one of the best pitching performances the USPBL has seen in 2017. Through 8.2 innings, he gave up just five hits, walked two batters and tallied 10 strikeouts. However, the winning run was earned to Gaynor and he was given a tough 1-0 loss.
"My slider was huge for me and my fastball command was there which helped compliment my off-speed," said Gaynor. "My defense made three or four big plays, and without them, this would've been a whole different ballgame."
Beavers starting pitcher Jake Welch was also stellar in his outing. Through seven innings, Welch gave up just two hits and struck out seven batters.
Through the first seven innings, each team only had two hits. In the bottom of the ninth, the bases were loaded for Kennon, and he worked a great at-bat to a 3-2 count before drawing a walk-off walk.
"This was probably the best professional baseball game I've ever been a part of in my life," Beavers Manager Chris Newell said. "It was an unbelievable effort by Jared Gaynor and Jake Welch, but the Mammoths didn't deserve to lose that game. We just got really lucky."
Upcoming Games
Thursday, July 20, Birmingham-Bloomfield Beavers vs. Utica Unicorns, 7:05 p.m. (The World Famous Team Ghost Riders/Wayne State Night/Thirsty Thursday)
Friday, July 21, Eastside Diamond Hoppers vs. Westside Woolly Mammoths, 7:05 p.m. (Fireworks Friday presented by XFINITY)
Saturday, July 22, Utica Unicorns vs. Eastside Diamond Hoppers, 7:05 p.m. (Rockin 4 Hunger)
Sunday, July 23, Birmingham-Bloomfield Beavers vs. Westside Woolly Mammoths, 1:35 p.m. (Lego Day)
Standings
1. Utica Unicorns 15-13
2. Eastside Diamond Hoppers 14-13
3. Westside Woolly Mammoths 13-14
4. Birmingham-Bloomfield Beavers 13-15