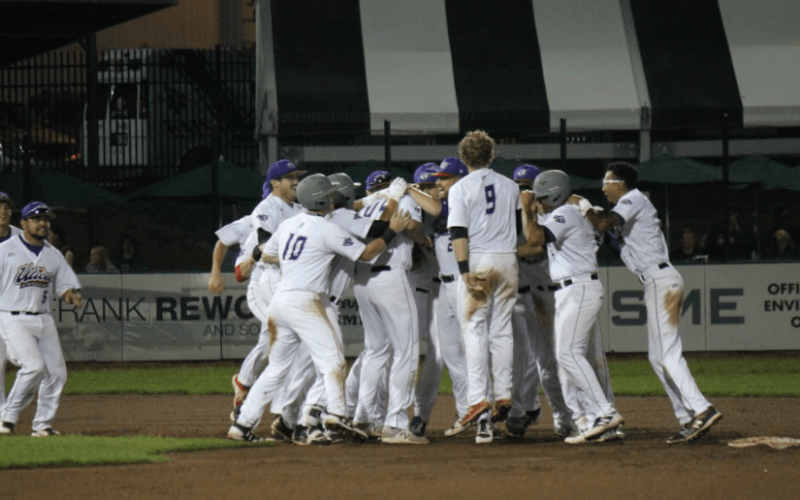 Ardeeser Hits Walk-Off Single, Unicorns Win 8-7
By Steve Marowski
Utica Unicorns 8 vs. Eastside Diamond Hoppers 7
Utica — Unicorns first baseman Clay Ardeeser hit a walk-off RBI single in the bottom of the ninth inning to give the Unicorns an 8-7 victory over the Eastside Diamond Hoppers.
"I was looking for a fastball up in the zone," Ardeeser said. "I wanted to make sure I saw it in a good zone where I could hit it."
Ardeeser went 1-3 with three RBI's and two sacrifice flies in the Unicorns victory.
Luke Doyle and Brandon Rawe also had big nights for the Unicorns. Doyle was 3-4 with a walk, an RBI and three runs scored. Rawe was 3-3 with a home run, two walks, two RBI's and two runs scored.
"It was a pretty exciting comeback for us," Unicorns Manager Jim Essian said. "We've got a powerful offense and it showed in the last inning."
The Unicorns led 3-0 after three innings, but the Diamond Hoppers scored two runs in the fourth inning and two runs in the fifth inning to take a 4-3 lead. Casey Chenoweth had an RBI double in the fourth inning, and Kam Stewart's RBI single in the fifth inning gave the Diamond Hoppers the lead.
The Unicorns came right back in the bottom half of the fifth after an RBI double from Doyle tied the game at four. Ardeeser's second sacrifice fly gave the Unicorns a 5-4 lead.
"We're getting better at swinging the bats well, and we just need to fix some problems on defense," said Essian.
The Diamond Hoppers would score one run in the sixth inning, one in the seventh inning and one in the eighth inning to take a 7-5 lead, but a three-run ninth inning capped off by Ardeeser's walk-off single helped the Unicorns earn the victory.
Diamond Hoppers shortstop Ricky Castro and catcher Cyle Figueroa both went 2-4 with an RBI. First baseman Esteban Gomez was also 2-4 with a walk.
"We really wanted to come through and get a big win tonight to try and get on a roll," Ardeeser added.
Upcoming Games
Sunday, May 28, Westside Woolly Mammoths vs. Birmingham-Bloomfield Beavers, 1:35 p.m. (Helicopter Candy Drop for Kids/Memorial Day Weekend All-You-Can-Eat Buffet)
Monday, May 29, Utica Unicorns vs. Eastside Diamond Hoppers, 1:35 p.m. (USPBL Star Spangled Hat Giveaway/National Coney Island Memorial Day Ticket Offer)
Standings
1. Eastside Diamond Hoppers 6-3
2. Utica Unicorns 5-4
3. Westside Woolly Mammoths 3-5
4. Birmingham-Bloomfield Beavers 3-5