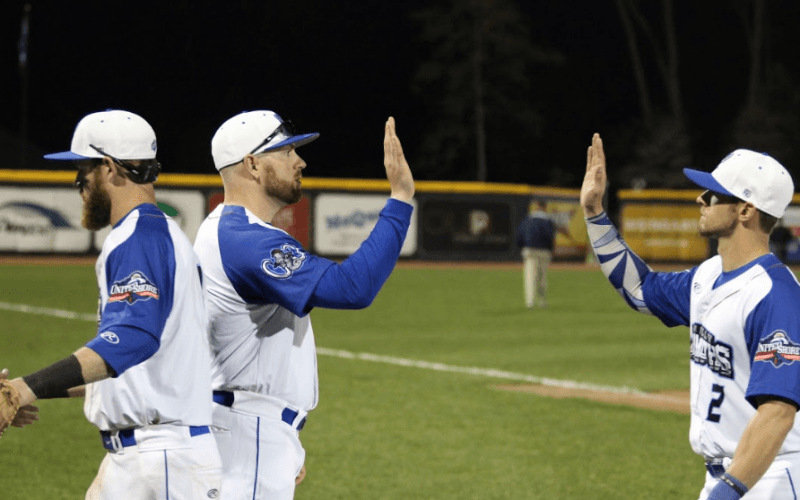 Mammoths Defeat Beavers 5-0
By Steve Marowski
Westside Woolly Mammoths 5 vs. Birmingham-Bloomfield Beavers 0
In their first game as a member of the USPBL, the Westside Woolly Mammoths defeated the Birmingham-Bloomfield Beavers, 5-0. The Mammoths showed strong pitching throughout the game, especially from starting pitcher Jeremy Holcombe, who struck out eight through six innings of work and picked up the win.
"I just went out there and really tried to command the fastball," said Holcombe. "My breaking ball was a little better than it usually is, and I was really working that on the corners."
Mammoths reliever Sean Kennedy threw just 22 pitches in his two perfect innings of relief. Corey Kimber threw a perfect ninth inning which included two strikeouts.
Although runs were at a premium, the Mammoths were able to get ahead in the third on an RBI single by Jeff Smith. Beavers starting pitcher Kevin Matthews was able to strand the bases loaded in the third and limit the damage to just one run. Matthews threw four innings, gave up one earned run and struck out eight.
Mammoths third baseman Riley Palmer doubled a run home in the bottom of the fifth to make it a 2-0 game, but the Mammoths offense gained some insurance in the eighth inning. Tyler McVicar, Jordan Barnes and Kyle Hamner hit three consecutive RBI singles to make the score 5-0.
"It was the first game," said Mammoths Manager Shane McCatty when he was asked about creating more run production. "I'm not very concerned about it. We strung some things together and we had good at-bats for the most part, and I was happy with the effort."
Beavers reliever Alex Kinch threw a perfect sixth inning, and Brian Heldman followed with a perfect seventh. In total, Beavers pitching combined for 15 strikeouts on the night. However, the Beavers weren't able to score against a good performance from the Mammoths pitching staff.
"You can't score runs if you don't hit the baseball," Beavers Manager Chris Newell said.
The Mammoths will be back in action on Saturday night when they take on the Eastside Diamond Hoppers.
Upcoming games
Saturday, May 13, Westside Woolly Mammoths vs. Eastside Diamond Hoppers, 7:05 p.m. (WCSX Classic Rock Saturday)
Sunday, May 14, Utica Unicorns vs. Eastside Diamond Hoppers, 1:35 p.m. (Mother's Day)