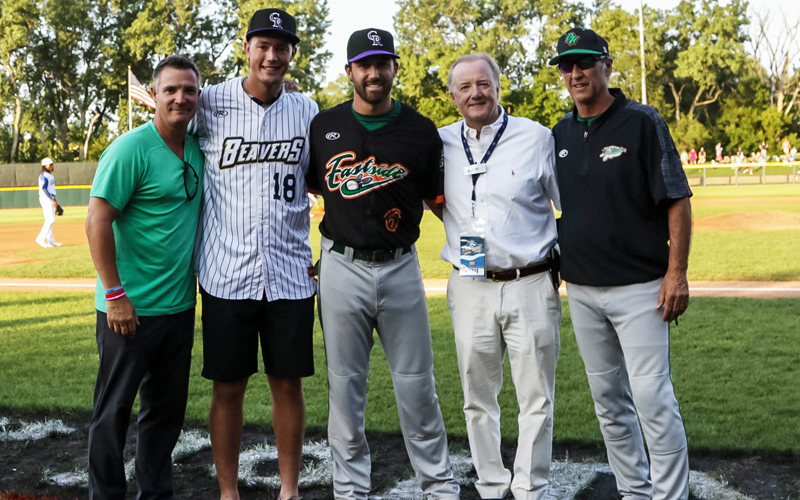 Gotsis and Olliges Sign with Colorado Rockies Organization
August 9th, 2019
ROCHESTER, Mich. – Two more United Shore Professional Baseball League players are moving on with Major League Baseball organizations as Eastside Diamond Hoppers Noah Gotsis and Birmingham Bloomfield Beavers Kyle Olliges have inked contracts with the Colorado Rockies organization, announced by Justin Orenduff on Friday. Gotsis and Olliges are the sixth and seventh players signed this season, and 33rd and 34th overall.
"Noah Gotsis came into the USPBL as a polished pitcher that could throw multiple pitches for strikes and consistently perform at a high level for the Hoppers," said Orenduff. "As he progressed through the USPBL, he developed later and more effective break on his curveball while adding 1.3 mph to his average fastball. His ability to attack hitters and work quickly should help him excel in the Rockies Organization.
"Kyle Olliges started as a development pitcher in the USPBL. Through his hard work and dedication over the last two years he significantly improved his mechanical efficiency helping him to add over 2.4 mph to his average fastball. As his off speed pitches increased in break, his full arsenal helped him profile to the next level. We wish him the best of luck in the Rockies Organization."
Gotsis was part of a dominating 1-2 punch for the Diamond Hoppers, joining former teammate Luis Contreras who signed with the Milwaukee Brewers back on June 20th. A native of Phoenix, Ariz., the right-handed hurler Gotsis led the league in wins (4), strikeouts per game (8.82) and boasted an earned run average of 3.35.
"The USPBL has been an incredible experience both personally and professionally," said Gotsis. "I've made some life long friends and truly appreciated the fan and staff support. I'd really like to thank Paul Noce for taking a chance on me and for constantly believing in my goals. Justin Orenduff, Shane (McCatty) and Alan's (Oaks) expertise and effective use of the DVS model helped me take my performance to the next level. I feel extremely blessed to have had this opportunity."
Olliges is another right-handed pitcher that was in his second year in the USPBL. A native of Louisville, Ky., Olliges had the league's third-most wins and struck out 31 hitters in 45.0 innings pitched. He has been one of the more consistent pitchers in the league over the past two seasons.
"The USPBL has given me endless opportunity for growth as a player and has placed me with a great staff to help develop and play at the next level," said Olliges.
Gotsis and Olliges are heading to Grand Junction, Colo. to compete with the Grand Junction Rockies. They are trying to become the next USPBL players to advance all the way through the minor league system similar to Randy Dobnak who recently was promoted to the Minnesota Twins roster after pitching in the USPBL in 2017.
#YourSummerDestination