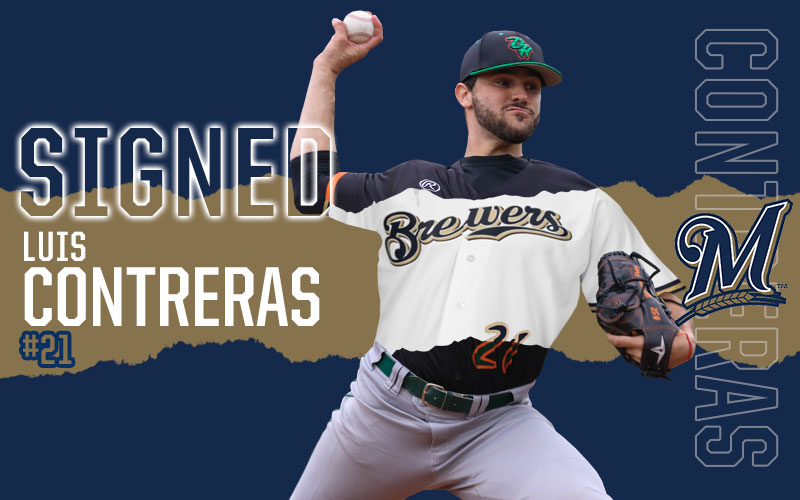 Luis Contreras Signs with Milwaukee Brewers
June 20th, 2019
ROCHESTER, Mich. – Eastside Diamond Hoppers Luis Contreras signed with the Milwaukee Brewers, announced by Director of Baseball Operations Justin Orenduff on Thursday. Contreras becomes the 29th player in the United Shore Professional Baseball League to sign with a Major League Baseball organization since 2016.
"In the offseason, (Eastside Manager) Paul Noce told us he found a pitcher that would be a perfect fit for the USPBL and Luis Contreras was exactly that," said Orenduff. "He arrived at the USPBL with a tremendous work ethic, passion for learning, and embodied what it means to be a pitcher. Contreras throws three pitches for strikes and can elevate his fastball with high spin which made him the league leader in strikeouts. We look forward to his success in the Brewers organization."
Contreras, a native of Pembroke Pines, Fla., struck out a league-best 39 batters in 23.0 innings pitched. He finished with a record of 2-2 and earned one save. Contreras combined for a one-hit shutout on May 25th against the Utica Unicorns.
"The league, staff, crowd and fans makes the USPBL a great experience for a bunch of players that want to keep fighting for their dreams," said Contreras. "I want to thank the entire USPBL staff and Sandy (Wilton) for placing me in the host family program and giving me the opportunity to meet my new family, the DiLoddo's."
Earlier in the week, former Birmingham Bloomfield Beavers pitcher Randy Wynne signed a contract with the Cincinnati Reds. Wynne tossed a complete-game in the 2017 Championship Game, striking out a single-game record 14 batters and was named Championship MVP. He holds the USPBL single-season record with eight wins in the 2017 season.
#YourSummerDestination