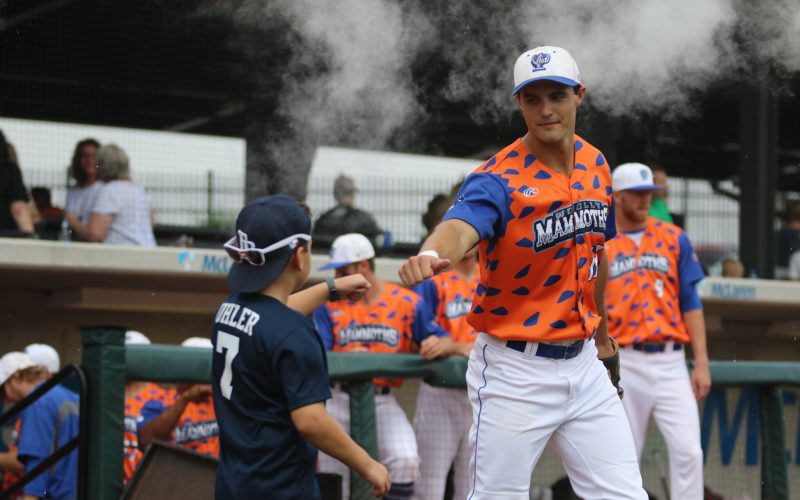 Woolly Mammoths Clip Diamond Hoppers, 6-1
UTICA, Mich.  – Josh Mason threw 8.0 strong innings, allowing just three hits and struck out eight, while Ethan Wiskur homered for the third time in the last two games to lead the Westside Woolly Mammoths (21-23) over the Eastside Diamond Hoppers (22-22), 6-1, on Sunday at Jimmy John's Field.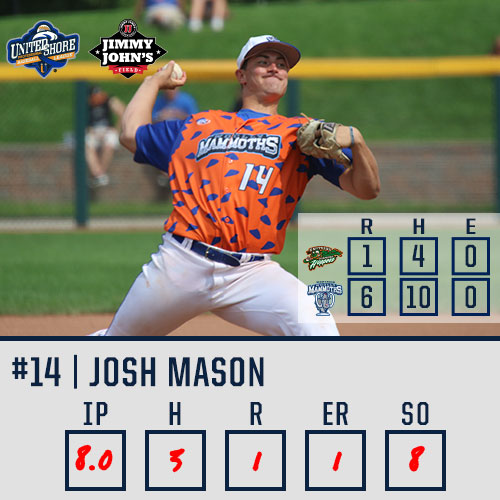 Wiskur, a native of Clio, Mich., finished 2-for-4 and now has nine home runs on the season. Mason earned his league-leading eighth win of the season and is now 8-2 this year.
Jake Barbee went 2-for-4 with an RBI for the Mammoths. Leading the Diamond Hoppers at the plate was John Menken with a 2-for-4 performance.
Metro Detroit Chevy Dealers Fan of the Game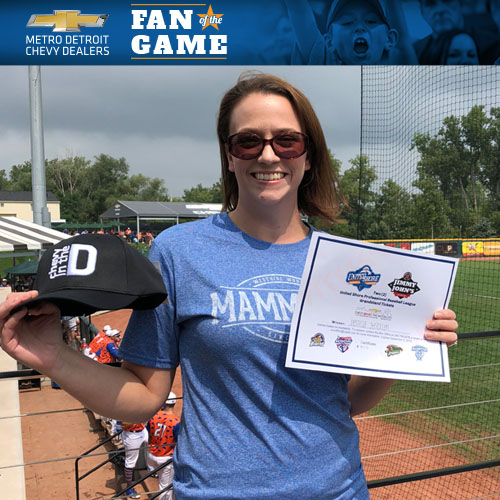 Jessica Stricklen
UPCOMING GAMES/EVENTS
Wednesday, August 29
Movie Night, The Lion King, Presented by Noodles & Company
Gates open at 7 p.m., Tickets are $5 – Read More
Thursday, August 30
Utica Unicorns (23-22) vs. Westside Woolly Mammoths (20-23), 7:05 p.m. first pitch (Gates open at 6 p.m.)
Buy Tickets
Promotions: Thirsty Thursday, presented by Dave & Buster's, ALS Awareness Night, Escape from Straight Jacket Upside Down by Anthony Grupido – Read More
Friday, August 31
Eastside Diamond Hoppers (22-21) vs. Birmingham Bloomfield Beavers (22-21), 7:05 p.m. first pitch (Gates open at 6 p.m.) – Read More
Promotions: MetroPCS Fireworks Spectacular – Read More
Saturday, September 1
Utica Unicorns (23-22) vs. Eastside Diamond Hoppers (22-21), 7:05 p.m. first pitch (Gates open at 6 p.m.)
Buy Tickets
Promotions: Country Music Night, Tim McGraw Tribute Band, Military Appreciation Night, all active and former military personnel receive up to four free tickets while tickets last – Read More
Sunday, September 2
Westside Woolly Mammoths (20-23) vs. Birmingham Bloomfield Beavers (22-21), 1:05 p.m. first pitch (Gates open at Noon)
Buy Tickets
Promotions: Sunday Fun Day, Daddy-Daughter Day with a brunch, Catch on the field, and a ballgame – Read More
#YourSummerDestination