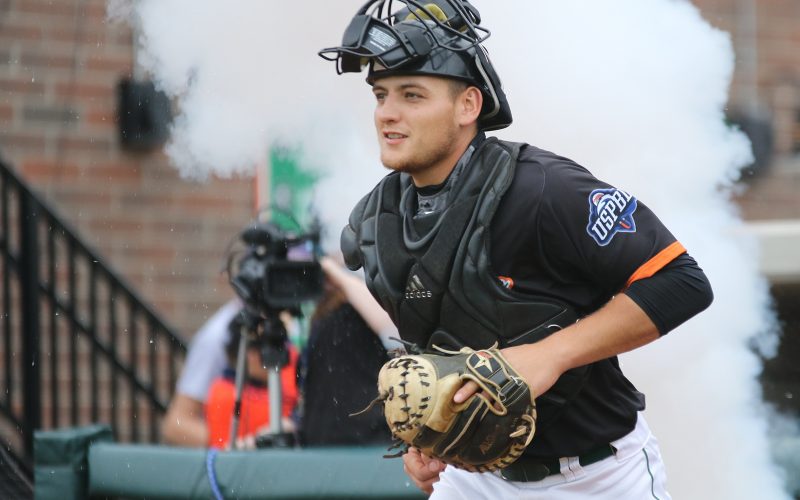 Diamond Hoppers Defeat Beavers, 7-3
UTICA, Mich. – Thomas LaCongo went 3-for-3 with an RBI and a run scored and Cameron Coons finished 2-for-3 to lead the Eastside Diamond Hoppers (2-3) over the Birmingham Bloomfield Beavers (3-1), 7-3, on Sunday afternoon at Jimmy John's Field.
Right-handed pitcher Logan Gillaspie earned the win in relief, throwing two scoreless innings for the Diamond Hoppers. Both Alex Vargas and Torey Deshazier sealed the game by each throwing a scoreless inning.
Johnny Knight IV went 2-for-5 with an RBI and scored two runs for the Hoppers. Leading the Beavers offensively was Thomas Roulis, going 2-for-3 with a home run and two RBIs.
The Beavers scored three runs, on seven hits, and had one error, while the Diamond Hoppers posted seven runs, on 11 hits and committed two errors.
UPCOMING GAMES:
Thursday, May 24
Birmingham Bloomfield Beavers vs. Eastside Diamond Hoppers, 7:05 PM
Promotions: Thirsty Thursday presented by Dave & Buster's, featuring $2 Bud and Bud Light (12 ozs). There will be a Craft Beer Special Release in the Short Hops Craft Beer Garden ($5 Craft Beers for 12 ozs)
The Short Hops Craft Beer Garden is located on the lower concourse, third base side. Here is a list of the special beers that will be released this Thursday.
Brooks Brewing = New England IPA
Sherwood Brewing = Cracker Jack Ale
New Belgium Brewing = 2018 La Folie
Midland Brewing = Malted Barley; 4 Hops Pale Ale
Blake's Hard Cider = Blossom Eater
Friday, May 25
Eastside Diamond Hoppers vs. Utica Unicorns, 7:05 PM
Promotions: Meet the Unicorns Night and XFINITY Fireworks Spectacular after the game
Saturday, May 26th
Utica Unicorns vs. Westside Woolly Mammoths, 7:05 PM
Promotions: WCSX Classic Rock Saturday featuring Square Pegz, 80's Night Tribute with Stranger Things. Square Pegz, will play pregame and in between innings from the Dana St. Clair Stage in right field. The party is just getting started after the game. Postgame dance party on the field featuring the 80's Tribute Band and AAA Clubhouse Afterglow Party following the dance party.
Sunday, May 27
Westside Woolly Mammoths vs. Birmingham Bloomfield Beavers (DH), 1:05, 3:30 PM
Promotions: Sunday Fun Day for Kids with Beauty and Beast (Noon-2pm)
Monday May 28
Eastside Diamond Hoppers vs. Utica Unicorns, 1:05 PM
Promotions: Come celebrate Memorial Day and get some cool USPBL Sunglasses to the first 750 fans through the gates. $1 Hot Dogs, $1 Chips and $1 Soft Drinks
#YourSummerDestination