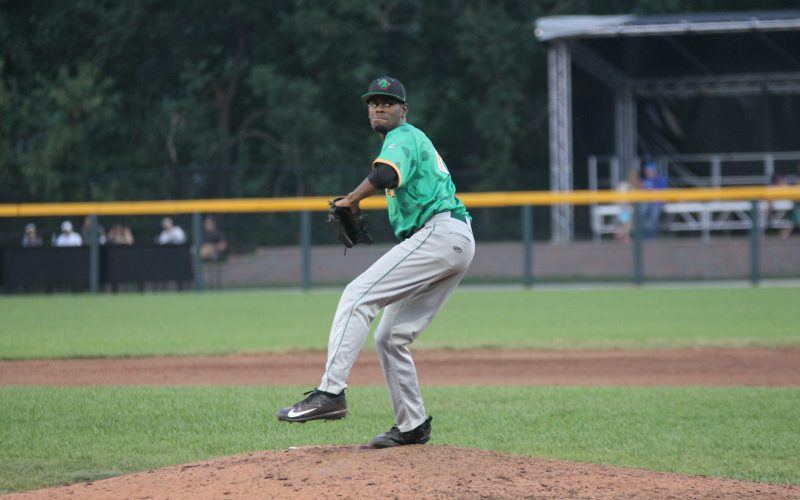 Deshazier and Diamond Hoppers Take Down Mammoths 5-1
By Steve Marowski
Eastside Diamond Hoppers 5 vs. Westside Woolly Mammoths 1
Utica — Torey Deshazier threw 6.2 innings of one-run baseball and Esteban Gomez was 3-5 with a run scored in the Eastside Diamond Hoppers 5-1 victory over the Westside Woolly Mammoths.
Deshazier gave up just three hits and one run in his outing. He also struck out seven and picked up his second win of the season.
"Coming off a bad start last week, I just wanted to execute my pitches and attack hitters," Deshazier said.
The Diamond Hoppers took a 1-0 lead in the top of the sixth inning on an RBI single by John Kraft. An RBI fielder's choice from Ian Mikowski made it 2-0, and another run scored on a throwing error to put Eastside ahead, 3-0.
Mikowski came home to score on a double steal and gave the Diamond Hoppers a 4-0 lead.
The only Mammoths run came in the bottom of the seventh after Shaun Wood scored on a wild pitch.
Eastside tacked on one more run in the top of the ninth on an RBI fielder's choice by Mark Krueger.
"It was a well-pitched game on both sides and it was a good baseball game," Diamond Hoppers Manager Paul Noce said. "We came up with some hits, made some plays and that's pretty much what got us the win."
Upcoming Games
Saturday, July 22, Utica Unicorns vs. Eastside Diamond Hoppers, 7:05 p.m. (Rockin 4 Hunger)
Sunday, July 23, Birmingham-Bloomfield Beavers vs. Westside Woolly Mammoths, 1:35 p.m. (Lego Day)
Standings
1. Eastside Diamond Hoppers 17-13
2. Utica Unicorns 16-16
3. Birmingham-Bloomfield Beavers 15-16
4. Westside Woolly Mammoths 13-16