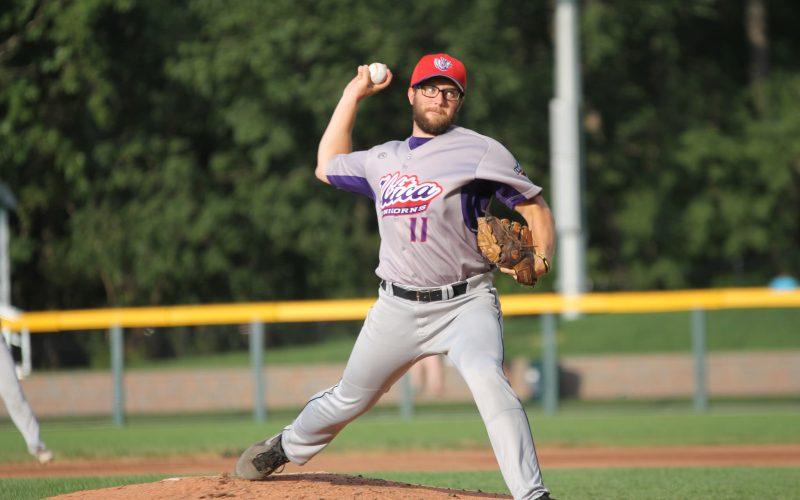 Unicorns Pick Up Close 5-4 Victory
By Steve Marowski
Utica Unicorns 5 vs. Westside Woolly Mammoths 4
Utica — In a close game between the Utica Unicorns and the Westside Woolly Mammoths, the Unicorns came out on top with a 5-4 victory.
Second baseman Connor Reynolds was 3-4 with two RBI's and starting pitcher Randy Dobnak threw seven scoreless innings and allowed just three hits.
"As a pitcher, getting two runs in the first inning from your team is always a good feeling and it's always good to get runs from your guys," Dobnak said.
The Unicorns got off to a quick 2-0 lead on a two-RBI single by Mike Rampone.
In the top of the fourth inning, Taylor Grzelakowski hit a solo home run to increase the Unicorns lead to 3-0. Grzelakowski leads the league with eight homers.
The Unicorns went up 5-0 on a two-RBI single by Connor Reynolds in the top of the sixth.
The Mammoths came back with four runs in the eighth. Kent Blackstone drew a bases-loaded walk, Alex Abbott hit a two-RBI double and Ethan Wiskur hit an RBI groundout. However, the rally would fall just short and a scoreless ninth inning from Sean Gustin secured the victory for the Unicorns.
"It was a great game for us," Unicorns Manager Jim Essian said. "We hit the ball well, we pitched well and we made some good defensive plays."
Abbott was 2-4 with two RBI's on the night.
Upcoming Games
Saturday, July 8, 2017 USPBL All-Star Game, 7:05 p.m. (USPBL All-Star Game presented by Dave & Buster's featuring America's Got Talent Quick Change)
Sunday, July 9, Eastside Diamond Hoppers vs. Westside Woolly Mammoths, 1:35 p.m. (Superhero Day)
Standings
1. Eastside Diamond Hoppers 13-11
2.Utica Unicorns 13-12
3. Westside Woolly Mammoths 12-12
4. Birmingham-Bloomfield Beavers 11-14