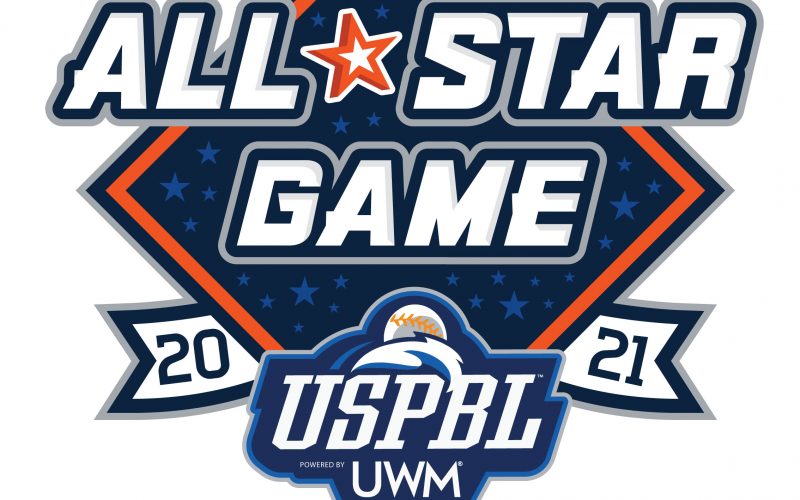 2021 All-Star Teams, Home Run Derby Lineups Announced
July 7th, 2021
ROCHESTER, Mich. – The 2021 USPBL powered by UWM All-Star teams and starting lineups were announced by the league office on Wednesday morning. The Home Run Derby will start at 5:30 p.m. and the All-Star Game will follow at Jimmy John's Field in historic downtown Utica, Mich.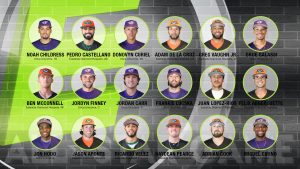 East All-Stars: Noah Childress (Unicorn, 1B), Pedro Castellano (Hopper, 2B), Donovyn Curiel (Unicorn, SS), Adam De La Cruz (Hopper, 3B), Greg Vaughn Jr. (Hopper, LF), Drue Galassi (Unicorn, CF), Ben McConnell (Hopper, RF), Jordyn Finney (Unicorn, C), Jordan Carr (Unicorn, P), Frankie Lucska (Unicorn, DH), Juan Lopez-Rios (Hopper), Felix Aberouette (Hopper), Jon Hodo (Unicorn), Jason Aponte (Hopper), Ricardo Velez (Hopper), Hayden Pearce (Hopper), Adrian Cook (Hopper), Miguel Cirino (Unicorn)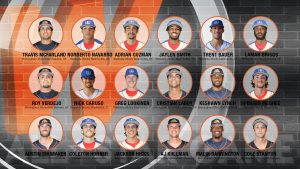 West All-Stars: Travis McFarland (Beaver, 1B), Norberto Navarro (Mammoth, 2B), Adrian Guzman (Mammoth, SS), Jaylen Smith (Mammoth, 3B), Trent Bauer (Mammoth, LF), Lamar Briggs (Mammoths, CF), Roy Verdejo (Beaver, RF), Nick Caruso (Mammoth, C), Greg Loukinen (Mammoth, P), Cristian Laboy (Beaver, DH), Keshawn Lynch (Beaver), Spenser McGhee (Mammoth), Austin Shumaker (Beaver), Coleton Horner (Mammoth), Connor Bagneski (Beaver), Jackson Hicks (Mammoth), AJ Kullman (Beaver), Malik Barrington (Beaver), Cole Stanton (Beaver)
The 2021 Home Run Derby lineup will feature Utica Unicorns' Noah Childress (East) and Drue Galassi (East), Eastside Diamond Hopper Greg Vaughn Jr. (East), Westside Woolly Mammoth Lamar Briggs (West), Birmingham Bloomfield Beaver Roy Verdejo (West), and Travis McFarland (West).
The Home Run Derby will be timed each round and a cumulative score will be added after two rounds. The final will be the top person from the East and West, and each player will start with zero home runs to compete for the 2021 Home Run Derby Championship.
The Home Run Derby will be carried on the USPBL's Networks family of stations including YouTube and Facebook.
Highlights from 2020 Home Run Derby and All-Star Game
#BringingBackTheFun