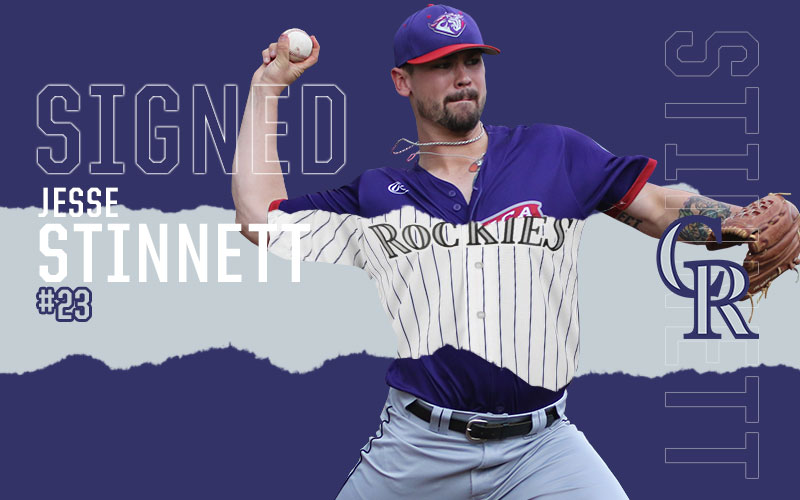 Jesse Stinnett Signs with Colorado Rockies
August 16th, 2018
ROCHESTER, Mich. – Utica Unicorns right-handed pitcher Jesse Stinnett signed with the Colorado Rockies, announced by United Shore Professional Baseball League's Director of Baseball Operations Justin Orenduff on Thursday. Stinnett is the third Utica Unicorns pitcher to sign with a MLB organization this season, and 25th USPBL player overall.
"Jesse Stinnett arrived at the USPBL with exactly what we look for in a starting pitcher," said Orenduff. "He possesses a natural ability to command all of his pitches and combines a diligent work ethic with focused intensity on the mound. During his time in the USPBL, Jesse learned to improve his energy and direction towards the plate, his recovery, and molded himself into a MLB Prospect."
Stinnett made 16 appearances for the Unicorns, striking out 38 batters in 36.1 innings pitched. He posted a 2-1 record in four starts and earned one save as he spent some of his time in the bullpen, before becoming a starter on July 24. Stinnett ranked fourth in the USPBL with a 2.97 earned run average.
"I would like to take this opportunity to thank God, my parents, all of the coaches that have helped mold me into the player that I've become today, and the Colorado Rockies for giving me a chance to live my dream," said Stinnett. "I want to thank the USPBL for giving me the opportunity to continue my career and get showcased to affiliated scouts. I can't thank Mr. (Andy) Appleby, Justin Orenduff, and Skip Johnson (Jim Essian) enough for believing in me. I could not have achieved this without the help of the USPBL and the work Mr. Orenduff put in with me."
Stinnett is the fifth player this season to ink a contract with a MLB organization this season. He is heading to Colorado to play in Rookie Ball with the Grand Junction Rockies.
2018 USPBL Players To Sign with MLB Organizations
Tyler Palm, Eastside Diamond Hoppers, Signed with Minnesota Twins (Elizabethton Twins, TN)
Logan Gillaspie, Eastside Diamond Hoppers, Signed with Milwaukee Brewers (Helena, MT)
Cody Brown, Utica Unicorns, Signed with Seattle Mariners (Everett, WA)
Jake Mayer, Utica Unicorns, Signed with Seattle Mariners (Arizona League)
Jesse Stinnett, Utica Unicorns, Signed with Colorado Rockies
#YourSummerDestination