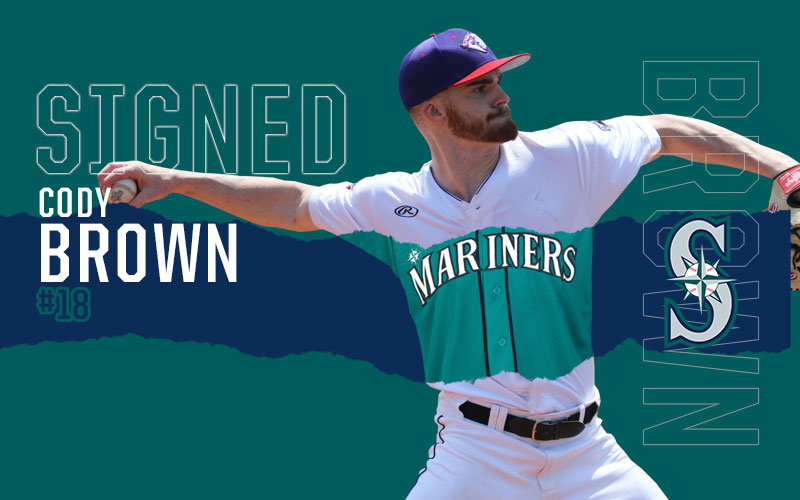 Cody Brown Inks Contract with Seattle Mariners
July 25th, 2018
ROCHESTER, Mich. – The Utica Unicorns' Cody Brown signed a contract with the Seattle Mariners organization, announced by United Shore Professional Baseball League's Director of Baseball Operations Justin Orenduff on Wednesday. Brown becomes the third USPBL player this season and 23rd overall to sign with a MLB organization.
"Cody has been one of the most consistent and productive pitchers to throw in the USPBL," said Orenduff. "During his time in the league, he improved his sinking fastball from 91 to 93 miles per hour, developed late action on his slider and change-up and emerged himself as one of the best starting pitching prospects in 2018. Cody utilized his time and resources in the USPBL and elevated his numbers to propel him into the Seattle Mariners organization."

Brown led the USPBL with 65 strikeouts in 56.0 innings pitched and posted a 4-3 record. The 6-foot-1 inch, right-handed pitcher, posted a 2.25 earned run average and threw the only complete-game shutout this season. Brown finished with a WHIP of 1.13.


"Playing in the USPBL was a game changer for me because it gave me another chance to keep playing baseball, when it was looking like I was done for good," said Brown. "Between the coaches and working with Justin Orenduff on my mechanics and lower half movement, I became a whole new pitcher from when I got here to when I left. If I had not come to the USPBL, I probably would be done playing baseball and not where I am today. I am very thankful for the opportunity."


Brown joins Logan Gillaspie and Tyler Palm as players to earn MLB organization contracts this season.
A native of Fulshear, Texas, Brown won back-to-back national championships at Tyler Junior College where he went 17-1. He pitched one season at Sam Houston State and played his senior year at UT Tyler, before signing with the USPBL.
2018 USPBL Players To Sign with MLB Organizations
Tyler Palm, Eastside Diamond Hoppers, Signed with Minnesota Twins
Logan Gillaspie, Eastside Diamond Hoppers, Signed with Milwaukee Brewers
Cody Brown, Utica Unicorns, Signed with Seattle Mariners


#YourSummerDestination