Andy Appleby
Owner and CEO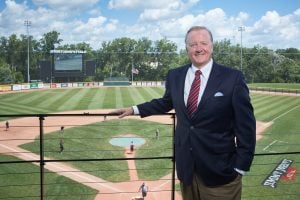 Andy Appleby, Chairman and Chief Executive Officer of General Sports and Entertainment, LLC, and Founder of AppleTree Advisory, LLC has more than 34 years of sports management experience. Since founding General Sports in 1998, Andy has led the effort to develop all of its operational divisions, subsidiaries and affiliated entities, as well as having created the General Sports Foundation. Andy was awarded the prestigious Ernst & Young Entrepreneur of the Year Award in 2002 and Ilitch School's Executive of the Year Award from Wayne State University in 2018. Under Andy's leadership, General Sports has had a very strong rise into the upper echelon of the sports and entertainment industry.
Through the Team Acquisition & Management division, Andy successfully completed the acquisition of English Premier League Derby County Football Club in January 2008. Andy served as the Club Chairman until 2015 when the franchise was sold. Andy also successfully completed the acquisition of the Fort Wayne Wizards Minor League Baseball team (Class A Affiliate of the San Diego Padres) in May 1999. Under the ownership of General Sports, the Wizards were named "Team of the Year" in the Midwest League in 2003 and 2004, and the team experienced attendance increases each year. General Sports sold the Wizards franchise in 2006. In 2015, Andy created the United Shore Professional Baseball League, a professional baseball league in Utica, MI.
The league plays its games at the $18 million privately-financed Utica ballpark, and was hugely popular while selling out 42 of 75 games during its inaugural season. The league continues to grow attendance year-to-year and has a single-game attendance record of 4,499. In 2021 the league welcomed its one millionth fan through the gates at Jimmy John's Field.
The popularity of the ballpark extends to the business community. Group outings reach 1,000 every summer and over 1,000 charities and non-profit organizations were able to leverage the ballpark to raise funds for their causes. The USPBL continues to surpass 50,000 kids in its Reading Program to help encourage them to read and earn a free ticket to a ballgame during the season.
Of all his business strategy goals, perhaps the most important for Andy was the success of his baseball instructional effort, a finishing school for ballplayers that has had 45 players signed by MLB organizations, including its first-ever major leaguer in 2019 as former Utica Unicorns pitcher Randy Dobnak made his debut for the Minnesota Twins on August 9th, throwing four scoreless innings (Watch Here).  Getting minor-league players into the major league systems has given the USPBL tremendous credibility and legitimacy already among MLB clubs and players.
Another highlight for the USPBL has been producing seven plays on the Emmy-Award Winning Program, ESPN SportsCenter's Top 10 Plays. In 2022 the Utica Unicorns and Birmingham Bloomfield Beavers made appearances at No. 8.
Prior to founding General Sports, Andy helped lead the ascent of the Palace Sports and Entertainment organization to the top of the sports and entertainment world. As Senior Vice President of Palace Sports and Entertainment, Andy oversaw an executive sales staff responsible for promoting and operating the Palace of Auburn Hills, Detroit Pistons, Detroit Vipers Hockey Club, Detroit Shock of the WNBA, Meadow Brook Music Festival, and Pine Knob Music Theatre.
Andy's drive for top-level achievement has long been evident in his pursuits and successes. He was an All-American high school wrestler, and he won three State Wrestling Championships. He went on to become the New England Wrestling Champion in 1981. He also was an All-State Cross Country Runner, and home course record holder.
Andy has a Masters Degree in Sports Management and a Bachelor of Science in English from Springfield College in Springfield, Massachusetts. He serves on the Board of Directors for the General Sports Foundation/Suite Dreams Project. He resides in Bloomfield Hills, Michigan with his wife Kristiana, son Brock, and daughters MacCall, Avery and Quinn.
Email Address: aappleby@generalsports.com