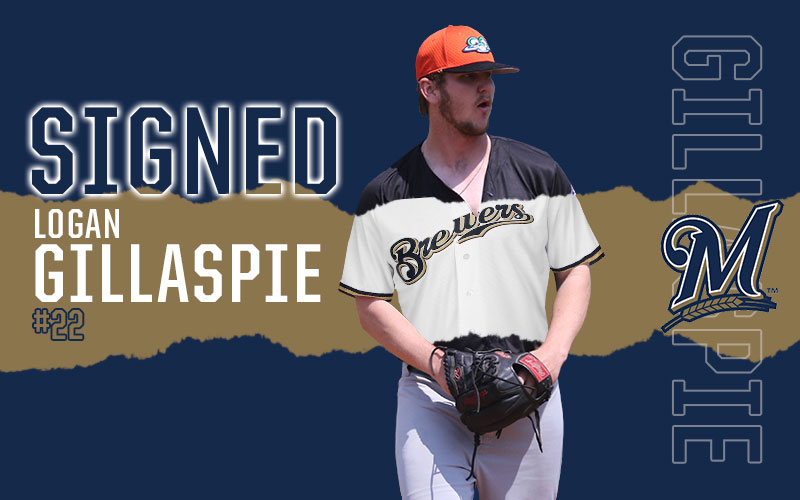 Logan Gillaspie Signs with Milwaukee Brewers
July 14th, 2018
ROCHESTER, Mich. – Eastside Diamond Hoppers' Logan Gillaspie has signed a contract with the Milwaukee Brewers, announced by Director of Baseball Operations Justin Orenduff. Gillaspie becomes the 22nd player in the United Shore Professional Baseball League to sign with a MLB organization.
"Logan came into the USPBL as a 21 year old converted catcher with limited pitching experience," said Orenduff. "We determined early on that he had a ton of power potential within his pitching delivery and as the season progressed, we saw his average fastball rise from 91 to 93 miles per hour in just over an eight-week span. With his knowledge of his delivery, combined with a focused routine, Logan proved in this year's All-Star Game he belonged in a Major League Baseball organization."
Gillaspie went 2-0 for the Diamond Hoppers with a 2.08 earned run average. The 6-foot-2 inch rignt-handed pitcher struck out 22 batters in 26.0 innings pitched.
"I showed up to the USPBL and did not know what to expect," said Gillaspie. "Every day I tried to get better and if it wasn't for Duff (Justin Orenduff), I wouldn't be where I am right now with the Brewers. The USPBL showed me how to take care of my arm in ways I never knew possible."
Gillaspie is the second player to sign with a MLB organization this season. He joins former teammate and Hopper Tyler Palm who signed with the Minnesota Twins on June 9 at Jimmy John's Field. Palm is throwing in Twins Rookie Ball for the Elizabethton Twins in Tennessee and has a 2-1 record.
A native of Bakersfield, Calif., Gillaspie played his collegiate baseball at Oxnard College in Oxnard, Calif. He reported to Arizona to compete for the AZL Brewers.
#YourSummerDestination