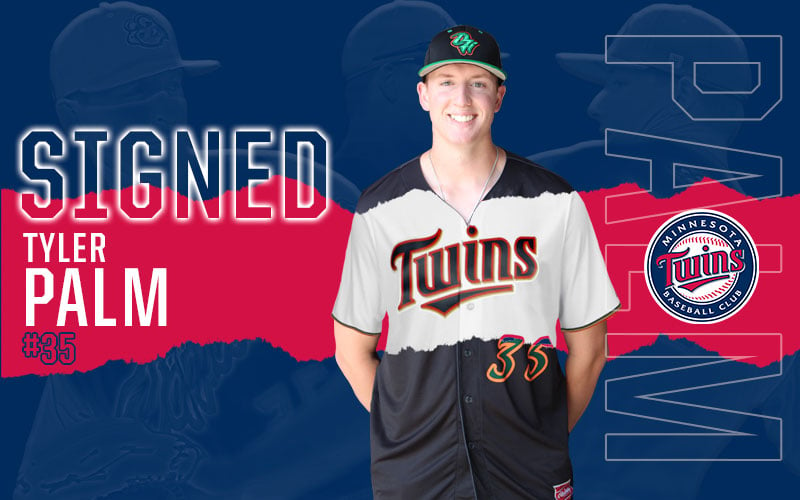 Tyler Palm Signs with Minnesota Twins
June 9th, 2018
UTICA, Mich. – Eastside Diamond Hoppers' Tyler Palm signed with the Minnesota Twins, announced by the United Shore Professional Baseball League on Saturday. Palm, a native of West Branch, Mich., played collegiately at Oakland University (2014-17) and becomes the 21st player from the USPBL to sign with a Major League Baseball organization over the last two-plus years.
"This is hands down one of the best feelings I have ever felt in my life," said Palm. "I want to thank God for being alive each day and doing what I love to do, I want to thank my family and friends for everything, my past coaches, my agent Derrick Ross and Justin Orenduff for believing in me. Justin is a guru, and the hard work I put in is paying off. I want to thank Billy Milos of the Minnesota Twins for believing in me and giving me this great opportunity."
Palm quickly became one of the top prospects in the USPBL after improving his average fastball from 88 miles per hour, when he first joined the league as a developmental player, to 92 mph this season. The 6-foot-9 inch right-handed pitcher topped out at 94 mph this year on his fastball and leads all starters in the USPBL with a 1.40 earned run average. Palm has thrown 25.2 innings, striking out 26 and allowed just four earned runs.
"Tyler Palm's recent success embodies why we created the development player role in the USPBL," said Director of Baseball Operations Justin Orenduff. The development player exists for players who have MLB potential but need considerable time improving a skill without having to perform in a game. Tyler spent six weeks in this role improving his pitching delivery to enhance his velocity, recovery, and ability to consistently perform in games. His dedication to improving his craft over the course of the off-season propelled him to far exceed expectations heading in the 2018 season. We are excited to continue to see him grow in the Twins System!"
At Oakland, Palm posted a 5-17 record with a 6.47 ERA in four years. His dedication to the Delivery Value System (DVS) in the USPBL led to some significant changes in his pitching delivery. Over the course of Palm's work within the DVS System, he improved his DVS Score from an 11 to a 15 which helped his throwing arm undergo less stress and recover faster. His improvements in velocity and arm control vaulted him to one of the top starters in the USPBL.
Palm will fly out tomorrow and travel to Fort Myers, Fla., and participate in a mini camp with the recent draft picks of the Minnesota Twins.
About United Shore Professional Baseball League
Rochester, Michigan-based General Sports and Entertainment founded the United Shore Professional Baseball League (USPBL), an independent professional baseball league in metro Detroit in 2016. The league plays in the new state-of-the-art $18 million dollar ballpark named Jimmy John's Field, located in historic downtown Utica, Mich. The first of its kind for the region, the USPBL provides a fun and exciting family atmosphere while showcasing top baseball talent from across the country and world to fans of all ages. The USPBL currently features four teams – the Utica Unicorns, Eastside Diamond Hoppers, Birmingham Bloomfield Beavers and Westside Woolly Mammoths. Additional teams and ballparks will be added in future years.
#YourSummerDestination