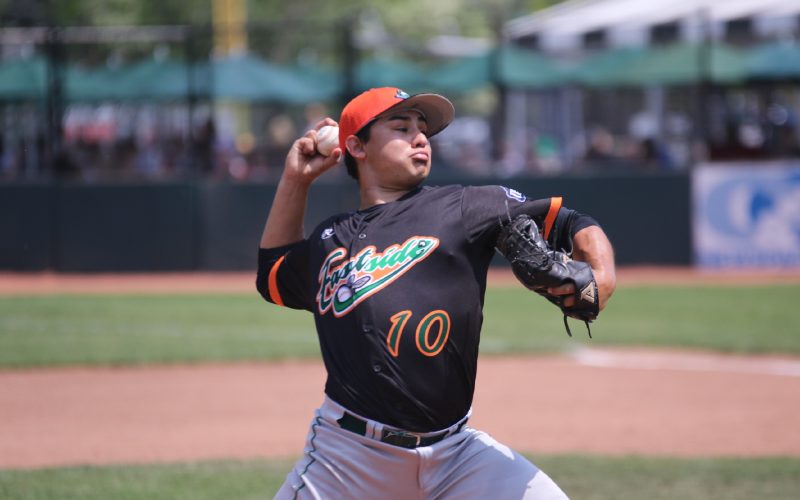 Diamond Hoppers Continue to Roll, 4-1, Over Unicorns
May 28th, 2018
UTICA, Mich. – Gabe Gunter went 2-for-5 and Donald Wanner worked 2.0 scoreless innings in relief to earn the win and lead the Eastside Diamond Hoppers (5-3) to a 4-1 win over the Utica Unicorns (3-5) on Memorial Day at Jimmy John's Field. The Diamond Hoppers are riding a four-game winning streak.
Right-handed pitcher Pete Grasso made the start, working 4.0 innings, striking out six and allowed just one run in a no decision. The Hoppers' bullpen tossed 5.0 scoreless innings, allowing just three hits and fanned five.
Spencer Ibarra provided the fire power for the Unicorns, smashing a home run to right field to plate the only run for Utica. RHP Cody Brown (1-1) struck out six in 5.0 innings of work, allowing two runs and five hits.
The Unicorns scored one run, on five hits and committed two errors, while the Hoppers scored four runs, on five hits and had no errors.
UPCOMING GAMES:
THURSDAY, May 31
Birmingham Bloomfield Beavers (3-5) vs. Utica Unicorns (3-5), 7:05 pm first pitch (Gates open at 6pm)
PROMOTIONS:
Thirsty Thursday, $2 Bud and Bud Light, $5 Craft Beer available in Short Hops Craft Beer Garden
The City of Utica is hosting Utica Residents Night at the Ballpark

All Utica residents are eligible for two free grandstand tickets to the game compliments of the City of Utica!
Redeem tickets while supplies last; limited number available

To redeem tickets, please call or email the Box Office at (248) 759-5278 / boxoffice@uspbl.com
FRIDAY, June 1
Beavers vs. Westside Woolly Mammoths (4-2), 7:05 pm first pitch (Gates open at 6pm)
PROMOTIONS:
Friday Fireworks Spectacular, immediately following the game
Meet the Woolly Mammoths before the game, get autographs, photos and talk to your favorite Mammoth players
Oakland University Night at the ballpark
SATURDAY, June 2
Woolly Mammoths vs. Eastside Diamond Hoppers (5-3), 7:05 pm first pitch (Gates open at 6pm)
PROMOTIONS:
WCSX Classic Rock Saturday with Bob Seger Tribute Band, Live Bullet Detroit
WCSX personalities will be out at the ballpark
SUNDAY, June 3
Unicorns vs. Beavers, 1:05 pm first pitch (Gates open at Noon)
PROMOTIONS:
Sunday Fun Day with your favorite Superheroes, presented by Fairytale Entertainment
Calling all Superheroes to the ballpark! Meet and Greet from Noon-1 p.m., and then your favorite Superheroes will be roaming the ballpark until 3 p.m.
#YourSummerDestination